BFH 100+ Largest Global Direct Selling Companies 2016
April 9, 2016
By Team Business For Home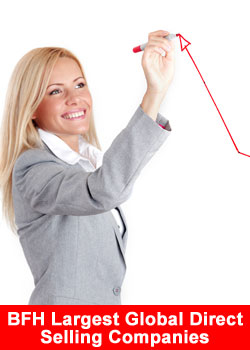 Kudos to Direct Selling News (DSN) to bring out a verified list of 100 Global Direct Selling companies, however the list is far from complete.
According to DSN: The DSN team seeks out public records and documents on the public companies. Additionally, the team reaches out to the private companies that may qualify for the ranking. They did a great job.
We have compiled a list based on our information and added a number of companies.
South Korea based Direct Selling company Amore Pacific reported group Sales total $4.68 Billion In 2015
USA based Melaleuca reported sales of $1.33 Billion in 2015.
Above companies as Forever Living Products (est. $2.500 million), Juice Plus+ (est. $750 million) and others do not appear on the DSN list.
There are more than 10,000+ Direct Selling companies worldwide, many of them in Asia and China, under the radar and are in the $150+ million sales range, therefore we would not be surprised if many companies on the present list will be pushed out of the top 100.
The total revenue of below companies is $94.7 Billion.
| Rank | BFH Rank | Company | Sales in $ Million | DSN Rank |
| --- | --- | --- | --- | --- |
| 1 | 1 | Amway  | 9500 | 1 |
| 2 | 2 | Avon | 6160 | 2 |
| 3 | 3 | Amore Pacific* | 4600 | |
| 4 | 4 | Herbalife | 4470 | 3 |
| 5 | 5 | Vorwerk | 4000 | 4 |
| 6 | 6 | Infinitus | 3888 | 5 |
| 7 | 7 | Mary Kay  | 3700 | 6 |
| 8 | 8 | Perfect | 3580 | 7 |
| 9 | 9 | Forever Living Products* | 2500 | |
| 10 | 10 | Natura  | 2410 | 8 |
| 11 | 11 | Tupperware   | 2280 | 9 |
| 12 | 12 | Nu Skin  | 2250 | 10 |
| 13 | 13 | Tiens | 1550 | 11 |
| 14 | 14 | Primerica  | 1410 | 12 |
| 15 | 15 | Ambit Energy | 1400 | 13 |
| 16 | 16 | Oriflame  | 1350 | 14 |
| 17 | 17 | Melalauca* | 1330 | |
| 18 | 18 | Belcorp | 1200 | 15 |
| 19 | 19 | Telecom Plus | 1170 | 16 |
| 20 | 20 | New Era | 1160 | 17 |
| 21 | 21 | Jeunesse | 1090 | 18 |
| 22 | 22 | New Avon | 1010 | 19 |
| 23 | 23 | Young Living  | 1000 | 20 |
| 24 | 24 | USANA  | 918 | 21 |
| 25 | 25 | Isagenix | 890 | 22 |
| 26 | 26 | Stream | 866 | 23 |
| 27 | 27 | DXN  | 862 | 24 |
| 28 | 28 | Pola  | 823 | 25 |
| 29 | 29 | ACN | 821 | 26 |
| 30 | 30 | Market America | 791 | 27 |
| 31 | 31 | Team Beachbody | 780 | 28 |
| 32 | 32 | Juice Plus* | 750 | |
| 33 | 33 | It Works! | 748 | 29 |
| 34 | 34 | Yanbal | 747 | 30 |
| 35 | 35 | AdvoCare | 719 | 31 |
| 36 | 36 | WorldVentures | 693 | 32 |
| 37 | 37 | Rodan + Fields | 624 | 33 |
| 38 | 38 | Yandi | 597 | 34 |
| 39 | 39 | Miki | 578 | 35 |
| 40 | 40 | Team National | 549 | 36 |
| 41 | 41 | Apollo | 538 | 37 |
| 42 | 42 | Nerium | 516 | 38 |
| 43 | 43 | Thirty-One Gifts | 516 | 38 |
| 44 | 44 | Arbonne | 502 | 40 |
| 45 | 45 | Forbes Lux Group | 501 | 41 |
| 46 | 46 | Rolmex | 448 | 42 |
| 47 | 47 | Scentsy | 429 | 43 |
| 48 | 48 | Omnilife | 406 | 44 |
| 49 | 49 | Unicity* | 400 | |
| 50 | 50 | Morinda* | 400 | |
Showing 1 to 50 of 117 entries