Chuck And Tami Gates Hit Ambassador Double Diamond In ASEA
April 26, 2016
By Nicole Dunkley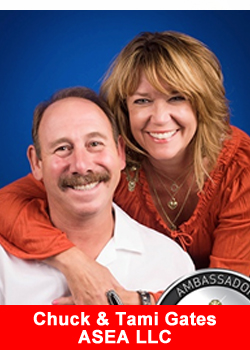 Chuck and Tami Gates of Helena, Montana, are among the first independent associates to reach redox-signaling giant ASEA's new rank of Ambassador Double Diamond.
ASEA, LLC, which launched in late 2010, manufactures the world's first and only Redox Signaling supplement.
These Redox Signaling Molecules in ASEA support the vital activity of cellular repair and replacement that are necessary for optimal cellular health.
In March of 2016, ASEA announced the rollout of its new Ambassador ranks, and the Gates quickly surpassed the Ambassador Diamond level to reach the rank of Ambassador Double Diamond.
Major success is the result of being in the right place at the right time and doing something about it. With ASEA, you are in the right place at the right time — now do something about it! said the Gates.
Chuck and Tammi are network marketing connoisseurs. They lead by example and are filled with wise advice. Tammi believes that "connecting with other ASEA Associates and joining the team leader's way of training" is one of the secrets to achieving lasting success.
About ASEA
ASEA was founded by Verdis Norton and James Pack. Norton's business experience comes from 30 years in the corporate world, most recently retiring as vice president of strategy for Kraft Foods. Pack spent more than two decades in the telecommunications industry, starting his own consulting group, Pack Consulting, which provided consulting and lobbying at the state level. Later Pack became a successful real estate developer in Park City, Uinta Basin and Salt Lake City.
ASEA is sold in a 32-ounce bottle and an eight-ounce flexible pouch made from environmentally friendly materials. The 32-ounce bottle is made from a durable plastic. The eight-ounce flexible pouch fits easily into a backpack, pocket or in athletic gear. Both packages were created from input from competitive athletes and everyday ASEA consumers. The eight-ounce pouch includes a one-way valve to keep the pouch contents clean and pure. ASEA can be purchased through ASEA's wide network of independent associates.