Total Life Changes Helps Reps
April 27, 2016
By Nicole Dunkley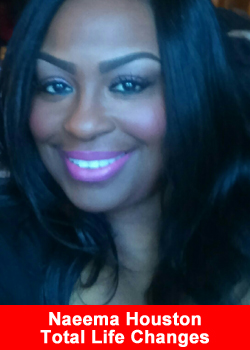 Total Life Changes is helping people restore their health and providing for the many little things that are adding up big for its Independent Business Owners. Stories of success continue to flood the airways of the web across all social media with product testimonies and financial restoration.
People are joining TLC and realizing that it is very realistic to make an extra $250 dollars a week on a part-time basis and that supplemental income is making some big differences in their lives.
Just a few weeks ago, TLC corporate staff learned of a unique story. Naeema Houston, an outreach pastor, mother and TLC Director texted her sponsor, Global Director Tonya Joyner-Scott and shared with her how her TLC business helped her get the transmission fixed in her car.
Initially, Naeema was denied financing for the repairs. She was asked if she could produce any additional income. Naeema explained that she has a part-time business with Total Life Changes and asked if she could print her past 10 months of sales commission as proof of income, and that is exactly what she did.
She was immediately approved to finance the new transmission and she is back on the road serving her church and her TLC customers.
"I love this company for so many reasons. First, the transformation of my health; I am 40 pounds lighter because of TLC. Almost a year ago I was scheduled to have gastric bypass surgery. But my friend and former business partner, Tonya Joyner-Scott introduced me to this awesome product called Iaso Tea. The rest was history," says Naeema.
Tonya and Naeema met over six years ago in a former MLM company. Tonya's excitement and love for TLC made Naeema take a much closer look at Total Life Changes' products and business opportunity. She has been working steadfast toward reaching her immediate and long-term goals.
Naeema and most of her family reside in Philadelphia, PA and she has aspirations for helping them improve their health and assisting them financially. She also has her sights set on developing a homeless transitional shelter.
"This has been my dream for years, a place that will give new life and hope to so many that are less fortunate. With consistent work and determination, this business will allow me to pay off all of my debt and purchase my dream home. My desire is to reach the world with TLC's awesome products. I'm also a proud mother of a newly engaged daughter and TLC is going to help me give her the wedding of her dreams," adds Naeema.
About Total Life Changes
Total Life Changes® offers an amazing line of health and beauty products along with a great business opportunity. Founder and CEO Jack Fallon created TLC over 16 years ago with a single product: Iaso® NutraBurst.
We have continued to grow the Iaso® brand of products like our popular Iaso® Tea. Our hybrid binary system allows IBOs of TLC to be compensated quickly for introducing new reps to our products and business opportunity. We are dedicated to providing the greatest opportunity for you to feel healthier and flourish financially. Join us and thousands of others who have already started making Total Life Changes.