Total Life Changes' Reps Reaching Rank & Achieving Product Results
April 2, 2016
By Nicole Dunkley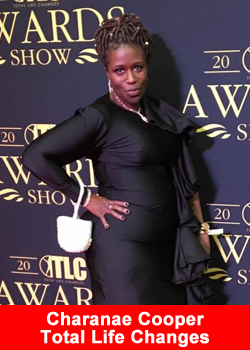 Meet Charanae Cooper, wife of Robert Cooper II and mother of 4 boys ages 28, 25,13 and 10, now living in Heathrow, Florida. Charanae found TLC about fourteen months ago through a post from a young lady that she was following on Facebook.
She was marketing the TLC products and peeked Charanae's interest toward finding a solution to improving her health. She was living in a very dark place, struggling with weight gain and depression for six years after having two miscarriages.
The medical problems began to add up due to her excessive weight nearly 400 pounds. She was being treated for plantar fasciitis, arthritis, high blood pressure and high cholesterol.
At one point her orthopedic doctor was recommending knee replacements, but she didn't qualify due to her young age. She began looking for products that would have an immediate impact on her health.
Charanae took a chance and purchased her first TLC product, NutraBurst; a liquid multivitamin. Within a very short period of time she began to see herself change. She began researching more of Total Life Changes' products and decided to try Iaso® Tea, a natural detoxification drink that has produced many results for people all around the world.
"I knew that I needed to change my lifestyle. I knew that my extreme weight was the cause of so many of my frustrations and medical problems. I was stuck for six years, living in a body that was deteriorating, my family and friends were very concerned for me. So I started investigating these products that some of my friends on Facebook were sharing.
I saw so many tremendous weight loss testimonies and decided to give it a shot and the rest is history. I'm hooked. During my first month I lost 33 pounds while drinking the Iaso Tea and taking the NutraBurst. I shed another 56 pounds and then started taking a product called NRG, which is amazing.
I have continued using all three products for the past year and I'm so very excited to say that I've now lost a total of 219 pounds; and I owe it all to TLC's founder and CEO, Jack Fallon and the amazing product line of TLC!"
Charanae continued to purchase TLC products for many months before she considered joining as an Independent Business Owner. Since that time, she has made many partnerships and helped others begin to live in a healthier body.
Her focus now is losing about 25 more pounds and building her TLC business. She recently reached the Director rank in the company and has her goals set on reaching Regional Director by the third quarter of business this year.
She thanks her close friends that stood by her side during her darkest hours and now celebrate her transformation; "I want to thank everyone that has supported me during my depression, but most importantly my husband and children and some of my dearest friends that helped, Jennifer & Erik Enders, Nj Jones and Mandy Williams. I haven't completed my journey, but I'm well on my way. I hope I've inspired someone not to give up."
Charanae is enjoying life again. She is able to exercise and dance, something she hasn't done in many, many years.
"I can stand in one leg of my old pants. Wow! It is amazing to me. I've been contacted by another company that offered compensation for my weight loss testimony and told them they must be crazy! Why would I give them credit for something their products did not do? I'm good right here with TLC. I know the products work without a doubt," exclaims Charanae.
Charanae proudly shares her testimony with others as she builds her business and continues to reach her ideal weight. She is free of injections in her knees, cortisone shots in her feet and has been able to stop taking pills for high blood pressure/high cholesterol and arthritis.
"Do you understand that I am free of physical and mental pain? I was in my thirties with the body of an 80-year old. I am no longer a client for Walgreen's pharmacy, but a product recipient of Total Life Changes!
You have to understand that I used to sleep with foam boots due to the plantar fasciitis and I suffered with migraines. All of this went away after the weight loss. I was taking six medications daily, and I'm so proud to say that I no longer take any medications. I'm on TLC products only; NutraBurst, NRG, Iaso Tea, Gano and Chaga."
Her family members are having great success with the products too. Her teenage son was taking medication for ADHD and Charanae asked him to try the NRG product as well as Chaga and Gano.
She happily reported that he is off of his medication and currently rocking a 3.5 GPA. Her youngest son has seen great improvement in his eczema while using Iaso® Oil, which is 100% certified Emu Oil.
You can reach Charanae to find out more about her product transformation or a business opportunity with TLC: [email protected] and visit www.CharanaeCooper.com
About Total Life Changes
Total Life Changes® offers an amazing line of health and beauty products along with a great business opportunity. Founder and CEO Jack Fallon created TLC over 16 years ago with a single product: Iaso® NutraBurst. We have continued to grow the Iaso® brand of products like our popular Iaso® Tea. Our hybrid binary system allows IBOs of TLC to be compensated quickly for introducing new reps to our products and business opportunity. We are dedicated to providing the greatest opportunity for you to feel healthier and flourish financially. Join us and thousands of others who have already started making Total Life Changes.