LegalShield To Provide Legal Services on Demand with New Mobile Solutions
May 12, 2016
By Nicole Dunkley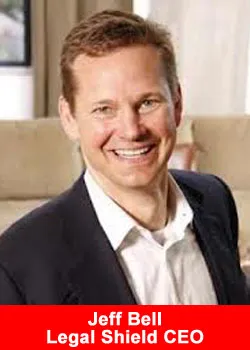 LegalShield

is getting a major technology upgrade in 2016 with the launch of new legal products and services tailored to the YouEconomy or sharing economy.
The initiatives are an outgrowth of LegalShield's partnership with New York-based Shake Inc., a technology startup acquired by LegalShield in April 2015.
Shake is the creator of the Shake law app for iOS and Android, which aims to simplify and modernize the legal contract process. Announcing the strategic acquisition, LegalShield CEO Jeff Bell said the move would "fast forward LegalShield's advancement into mobile solutions."
A year later, the Oklahoma-based company is preparing to roll out seven new mobile offerings, including a redesigned LegalShield app that provides instant access to legal services, as well as special perks.
Across the country, LegalShield retains a network of law firms that exclusively serve its members, who number more than 3.7 million. In its new app the company also will introduce Snap, a feature that enables members to upload a picture of any traffic ticket and send it to their firm for resolution.
"Forty-four years ago, LegalShield disrupted the legal industry by offering services at an affordable cost—creating a community of members and matching them to accountable and responsive law firms," said Bell.
"The costs of legal services are out of reach for most North Americans, and we are again reshaping the future of law services by putting a law firm in the palms of all citizens and our members with LegalShield mobile apps."
Beginning in June, the company plans to introduce its new services on a month-by-month basis. The lineup includes the new Shake, which will provide free contract templates to members; Launch, a one-stop legal shop for those looking to start a business; Ask, a resource for common legal questions; and Enhance, which will offer education, lawyer ratings and other tools for law firms. LegalShield also will target "gig economy" drivers of the Uber and Lyft variety with a custom legal plan for those who use their own car to earn income.
About LegalShield
LegalShield is one of the nation's leading providers of legal safeguards for individuals, families and small businesses. LegalShield also offers one of the industry's most affordable identity theft plans. Members receive identity theft protection for the entire family for the cost most competitors charge to cover a single individual.
LegalShield legal plans cover more than 1.4 million families and 3.7 million lives across North America. More than 34,000 companies offer the LegalShield plan to their employees as a voluntary benefit. For as low as$20 per month,
LegalShield members get access to attorneys who are experienced in the areas of law that most impact families and small businesses. Unlike other legal plans or do-it-yourself websites, LegalShield has dedicated law firms in 49 states and four provinces in Canada that members can call for help without having to worry about high hourly rates.
The attorneys at these firms have an average of 19 years of experience in such areas as family matters, estate planning, financial and business issues, consumer protection, tax, real estate, benefits disputes and auto/driving issues. In 2013 alone, LegalShield firms received more than 1.8 million calls from members.