Mario Halim And Ryani Irawan: Talk Fusion's First Royal Blue Diamonds In Indonesia
May 19, 2016
By Nicole Dunkley
Talk Fusion leaders Mario Halim and Ryani Irawan have changed history climbing to the highest rank ever held in Indonesia: Royal Blue Diamond. Having spent the past several years building their team and growing their business, this inspirational couple is now living the lifestyle they've always dreamed about.
From the flexibility to spend time with their kids to the ability to help friends and family financially, the young duo also uses their success to better the lives of others.
"We're so incredibly grateful for the opportunity Talk Fusion has given us," said Mario. "Not just to drastically enrich our own quality of life, but that of so many people we care about here in Indonesia."
Along with Mario's brother, Marselinus Halim, and their motivated team of Indonesian Associates, Mario and Ryani have already changed thousands of lives throughout their home country and they have big plans to expand in the future. They believe they can touch even more people with Talk Fusion.
Prior to building their Talk Fusion empire, Mario and Ryani had applied the same fervent dedication and work ethic to other direct selling companies, but something was always off.
"Before joining Talk Fusion," said Ryani, "we always kept thinking, 'What are we doing wrong?' We had dreams. We worked harder than anyone we knew, but still had very little to show for it."
"It wasn't until joining that we realized the importance of being with the right company, in the right vehicle capable of driving you to these dreams," added Mario.
Sharing the Talk Fusion products and opportunity, one big difference is clear: they're now working with a company that has both incredible products and the utmost respect for its Associates.
"Right away we could see how unique and useful the products were. But what really drew us in was the Instant Pay," said Mario. "We would earn commissions with our previous companies, then have to wait weeks, sometimes months, just to get paid. Talk Fusion pays our commissions in three minutes or less. To me, that didn't just demonstrate convenience, it demonstrated the respect this company has for its Associates and their success."
It didn't take long for the power couple to experience the benefits of Instant Pay for themselves. They immediately began sharing Talk Fusion's products and life-changing business opportunity with friends, family, colleagues, and neighbors—many of whom joined right away. Mario and Ryani's passion was infectious; they soon found themselves at the head of a loyal and hard-working team of Associates eager to share in the success of this new opportunity.
Now that they are Indonesia's highest ever ranked Talk Fusion Associates, Mario and Ryani are ready to take their business to the next level.
"The feeling of helping so many others change their lives is just incredible," said Ryani. "As far as I'm concerned, our work has just begun. This opportunity is simply too amazing to ignore and we won't rest until the entire world knows the name Talk Fusion."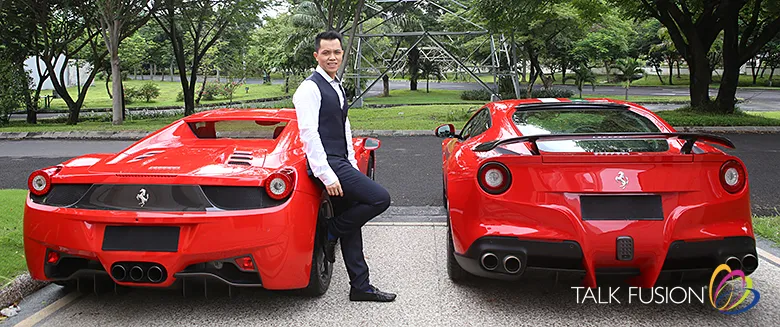 ABOUT TALK FUSION
Home of the world's first all-in-one Video Marketing Solution, Talk Fusion is dedicated to helping businesses stand out from the competition, increase sales and profits, and keep their customers coming back. Talk Fusion offers dynamic ways to make marketing more engaging, memorable, and persuasive with video.
Talk Fusion's innovative products are marketed person-to-person by Independent Associates in more than 140 countries. 30 day Free Trials of the all-in-one Video Marketing Solution are available to anyone who wishes to try before they buy—no credit card required.
Established in 2007 by Founder & CEO Bob Reina, Talk Fusion fosters a strong commitment to Giving Back to family, friends, communities, and animal charities across the world. Learn more or sign up for a 30 day Free Trial at www.TalkFusion.com and "Like" Talk Fusion at www.facebook.com/TalkFusion.
DISCLAIMER
The incomes and lifestyles depicted in this article are not representative of the results achieved by most Talk Fusion Independent Associates. Talk Fusion does not guarantee your financial success. For actual results achieved by all Talk Fusion Independent Associates, see Talk Fusion's Income Disclosure Statement at www.talkfusion.com.