Total Life Changes Announce 2016 Sales To Double To $154 Million
June 27, 2016
By Nicole Dunkley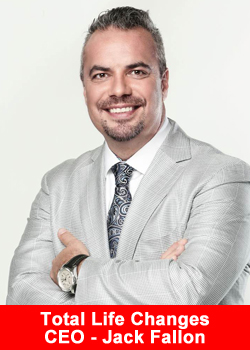 Total Life Changes (TLC), owners of the proprietary blend of original formula Iaso Tea since 2008, today announced Jack Fallon has been named President and Tea Executive Officer or "TeaEO". Only TLC owns and distributes the original formula of Iaso Tea in the U.S. and worldwide.
Under Fallon's leadership, the company's 2016 sales are on track to reach or exceed $154 million this year through his implementation of aggressive new partnerships for improved product fulfillment and innovative marketing strategies.
In addition to the corporate restructuring, the company's popular Iaso Tea will soon be available in an instant formula – worldwide.
"TLC has experienced exponential growth globally over the past two and a half years – in the U.S. and in more than 10 countries," stated President and TeaEO, Jack Fallon.
"We've launched several highly successful products and initiated new partnerships with manufacturers, scientists and distributors. Only TLC owns and distributes the original formula of Iaso Tea.
This year we're thrilled to be launching the instant formula of Iaso Tea and it's the perfect time to come on board as President to ensure TLC continues to be a tremendous success.
I have so much passion and appreciation for those in the field as well as our corporate staff – it is a true honor for me to be at the helm of TLC as we all strive for new heights of success together," concluded Fallon.
TLC's original formula Iaso Tea is a detoxification herbal supplement tea containing nine ingredients which work in synergy with each other to assist with cleansing and rebalancing the digestive tract by focusing on fats, parasites and toxins. An intestinal tract that is functioning optimally allows for better absorption of nutrients.
Iaso Tea also may assist with weight loss when drinking two eight ounce cups twice daily. Iaso Tea has been used worldwide in more than 140 countries for a decade. TLC's original proprietary formula of Iaso Tea can be used as a detoxification beverage on a daily basis and contains only all-natural plants and herbs.
About Total Life Changes
Total Life Changes® offers an amazing line of health and beauty products along with a great business opportunity. Founder and CEO Jack Fallon created TLC over 16 years ago with a single product: NutraBurst®. We have continued to grow the Iaso® brand of products like our popular Iaso® Tea.
Our hybrid binary system allows IBOs of TLC to be compensated quickly for introducing new reps to our products and business opportunity. We are dedicated to providing the greatest opportunity for you to feel healthier and flourish financially. Join us and thousands of others who have already started making Total Life Changes.
Visit Total Life Changes for more information on their proprietary blend of original Iaso Tea.