USANA Classified As Triple A Opportunity
June 28, 2016
By Team Business For Home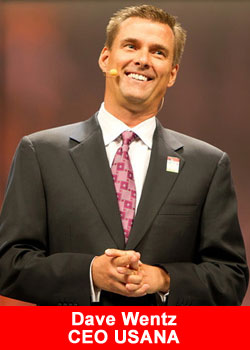 USANA is classified as Triple A (AAA+) opportunity based on key figures such as revenue, momentum, Alexa ratings, poll results, input from direct selling professionals, top earners and Head Office visits.
Business For Home recommends USANA. There is high certainty that the net benefit is substantial for a (new) representative.
USANA Health Sciences, Inc., was founded in 1992. The company in its develops and manufactures high-quality nutritional, personal care, and weight-management products FDA-registered facility in Salt Lake City, Utah, USA.
The products are sold directly to Associates and Preferred Customers throughout the United States, Canada, Australia, New Zealand, Hong Kong, Japan, Taiwan, South Korea, Singapore, Mexico, Malaysia, the Philippines, the Netherlands, the United Kingdom, Thailand, France and Belgium.
Additionally, USANA's wholly-owned subsidiary, BabyCare, Ltd., operates a direct selling business in China.
Over the last few years, USANA has seen incredible global financial growth, with the company recently reporting its 13th consecutive year of record sales and earnings.
The company achieved $918 million in revenue in 2015 with 16.2% growth compared to 2014.
Some of USANA's biggest achievements to date.
Winner of 32 Utah Best of State Awards since 2003

The Healthy Home, by USANA Founder Dr. Myron Wentz and USANA CEO Dave Wentz, hits No. 2 on the New York Times Best Sellers List, May 2011

Magazine: Best Places to Work, five wins since 2009

NutriSearch Comparative Guide to Nutritional Supplements, Consumer Edition Editor's Choice and NutriSearch Gold Medal of Achievement™ winner, 2013

Communicator Awards since 2009: USANA Magazine—Special Edition, Social Media at USANA International Convention in Salt Lake City, Utah, Blog—What's Up, USANA?

Dr. Myron Wentz receives the Albert Einstein Award for Outstanding Achievement in the Life Sciences, 2007

Forbes.com names USANA CEO Dave Wentz One of America's Most Powerful CEOs 40 and Under, 2009

Named Utah Manufacturer of the Year by the Utah Manufacturing Association, 2013

USANA becomes an FDA-registered facility, 2011

Voted "#1 Distributor's Choice" for Best Network Marketing Company by MLM Insider for 16 consecutive years

Recipient of six Australian Business Awards since 2010

Product Excellence—Essentials

Best New Product—BiOmega Jr.

Best eBusiness Tool—eApprentice

Recognized with the Outstanding Enterprise Award for Best Nutritional Supplement by Hong Kong's Capital Magazine, 2013

Winner of six International Business Stevie Awards, Management Team, Customer Service Department, International Convention
USANA World Headquarters in Salt Lake City, Utah – USA

About the Business For Home Ranking:
In our database we have around 1,000 direct selling companies from all over the world.
We have classified 650 companies with an AAA+, AA+, A+ or B grade.
In a couple of weeks the results will be visible together with more data in the (Free) Business For Home app, available both for Android as iOS. Therefore we recommend to download the app below.
The Business For Home grade definition:
AAA+

Business For Home recommends the company. There is high certainty that the net benefit is substantial for a distributor.
AA+

Business For Home recommends the opportunity. There is high certainty that the net benefit is moderate or there is moderate certainty that the net benefit is moderate to substantial for an distributor.
A+

Business For Home recommends selectively offering based on professional judgment. There is at least moderate certainty that the net benefit is small for a distributor.
B

Business For Home concludes that the current information about the company is insufficient to assess the balance of benefits. Information is lacking, of poor quality, or conflicting, and the balance of benefits cannot be determined.