Young Living Expands Global Sales Leadership Team
June 2, 2016
By Nicole Dunkley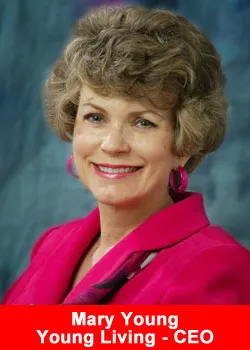 Young Living Essential Oils, LC, the largest essential oils company in the world, today announced the expansion of its Global Sales leadership team.
Seven global key sales managers were promoted to higher leadership roles, empowering them to expand Young Living's presence and member support around the world.
In addition, U.S.-based sales leaders were hired to provide market-specific sales leadership throughout North America.
Young Living has experienced exponential growth on a global scale for the past few years, which can be attributed in large part to these key individuals, said Jared Turner, Young Living Chief Operating Officer. Alongside our wonderful members, these leaders have contributed to our growth and are deserving of their new roles.
New Global leaders include:
Eddie Silcock, Sr. Vice President, Global Sales
Joey Nanto, Vice President, United Kingdom
Will Halterman, Vice President, Southeast Asia
Tyler Williams, General Manager, Greater China region
Gabriel Sanchez, General Manager, Latin America region
Yu Oki, Country Manager, Japan
New U.S. Sales leaders include:
Mildred Muniz, Director, Latino Market
Piedad Montoya-Kuhl, Regional Sales Director, U.S. Central
Jeff Krommenhoek, Regional Sales Director, U.S. West
Jeff Pearson, Regional Sales Director, U.S. East
Every member of this team brings experience, expertise, and insight to take Young Living to the next level, said Eddie Silcock, Sr. Vice President, Global Sales.
Young Living invests greatly in expanding the company's infrastructure to meet current demands and plan for future growth.
About Young Living Essential Oils
Young Living Essential Oils, LC, is the world leader in essential oils, with a strict Seed to Seal® process to produce pure essential oil products for every individual, family, and lifestyle. This process ensures that all products are genuine, free of synthetic chemicals, and pure. This commitment stems from the company's 20 years of stewardship toward the earth and its people.