23,000 Reps Expected At Market America International Convention
August 4, 2016
By Nicole Dunkley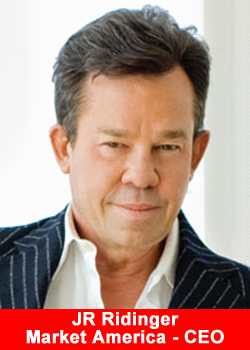 Converting Spending into Earning" is the main message Market America | SHOP.COM will deliver to more than 23,000 eager entrepreneurs at its 2016 International Convention in Greensboro NC, home of its world headquarters, this week.
This year's event, to be held Aug. 4-7 at the Greensboro Coliseum, will showcase the latest developments in Market America | SHOP.COM's high-tech, high-touch approach to ecommerce.
"We have never been more positioned to change the entrepreneurial landscape than at this International Convention in Greensboro," said Market America | SHOP.COM President and CEO JR Ridinger.
"People everywhere are succeeding through the Market America UnFranchise® business. And the pace continues to quicken as entrepreneurs enthusiastically adopt our "Shopping Annuity" concept which includes analyzing consumer spending habits with our online tools, using SHOP.COM's comparison shopping engine to find the best prices and earning up to 50% Cashback on qualified purchases.
This event will be our most historic event ever as we disclose new technologies, new products, new methodologies and new opportunities that will allow the world to Convert Spending into Earning."
The event will feature the Market America | SHOP.COM Executive Team, successful entrepreneurs and celebrity guests. Previous events have been attended by Jennifer Lopez, Alicia Keys, Jamie Foxx, Serena Williams, Alejandro Sanz, Khloe Kardashian, Kim Kardashian, Gloria and Emilio Estefan, Tony Romo, Swizz Beatz, Paulina Rubio, Marc Anthony, among many others.
Grammy-nominated rap artist and entrepreneur Joseph "Fat Joe" Cartagena, the company's President of Urban and Latino Development, will be on hand to convey the excitement and explosive growth within that market sector.
Fat Joe recently released a new single, "All the Way Up" featuring Remy Ma and French Montana. The track reunites Fat Joe and Remy, who scored a No. 1 Billboard hit with their 2005 smash "Lean Back". The infectious anthem has reached platinum status and is the duos first single off their highly anticipated album Plata o Plomo. "All the Way Up" is available on iTunes thru SHOP.COM.
In addition, Market America | SHOP.COM 2016 International Convention will feature numerous new product launches from its wide assortment of health and nutrition, beauty, skincare, baby care, home care and personal care brands.
New products will be unveiled from the Fall/Winter 2016 cosmetic collection from the award-winning Motives by Loren Ridinger cosmetic line created by Market America | SHOP.COM Senior Vice President Loren Ridinger. New, hot color trends for the fall/winter season, in addition to line expansions for the Motives brand, will be available on SHOP.COM and motivescosmetics.com immediately following the unveiling at the event.
Conquer Entertainment will also introduce new platform features to assist independent artists in launching their careers without sacrificing creative and business control of their unique brands.
More exciting new announcements will headline this year's event, including enhancements in SHOP.COM's shopping website that will be introduced and discussed in detail by Market America | SHOP.COM Chief Operating Officer Marc Ashley.
"Every event, every year, the company just gets better and better," said Ashley. "We're stronger than ever and continue to develop new technologies and products to meet the demand of the marketplace," he said. "We look forward to seeing the coliseum full of energetic entrepreneurs as we pursue our mission to change the way people shop and to convert spending into earning."
ABOUT MARKET AMERICA, INC. & SHOP.COM
Market America, Inc. is a product brokerage and Internet marketing company that specializes in One-to-One Marketing. Its mission is to provide a robust business system for entrepreneurs, while providing consumers a better way to shop. Headquartered in Greensboro, NC, the company was founded in 1992 by President and CEO JR Ridinger and has generated $6.2 billion in accumulated sales.
Market America employs nearly 750 people globally with operations in the United States, Canada, Taiwan, Hong Kong, Australia, United Kingdom, Mexico, Spain and Singapore. Through the company's shopping website, SHOP.COM, consumers have access to over 40 million products, including Market America exclusive brands and thousands of top retail brands.
Internet Retailer has ranked SHOP.COM #59 in the 2016 Internet Retailer Top 500 Guide and the 18th fastest growing Internet Mobile Retailer. By combining Market America's entrepreneurial business model with SHOP.COM's powerful comparative shopping engine, Cashback program, Hot Deals, ShopBuddy™, social shopping integration and countless other features, the company has become the ultimate online shopping destination.