LifeVantage Ranks 6th On Utah Business Magazine Fast 50
August 23, 2016
By Nicole Dunkley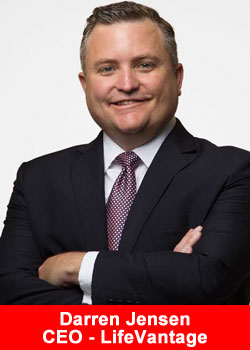 For the third time in the past five years, LifeVantage has been ranked in the Top 10 on Utah Business magazine's annual Fast 50. The company ranks #6 on the 2016 list that was just released by Utah Business.
The Utah Business Fast 50 recognizes 50 of the fastest growing companies in the state, celebrating them for their entrepreneurial spirit, innovative business tactics, and skyrocketing revenue growth.
The companies are selected and ranked based on financial data submitted to an independent accountant for analysis.
"It is a tremendous honor to be ranked in the Utah Business Fast 50. Our repeated ranking in the top 10 demonstrates that LifeVantage is a dynamic, expanding, and sustainable company that is focused on long-term growth objectives," said LifeVantage President and Chief Executive Officer Darren Jensen. "This a just a glimpse of where I see the company going in the future. We will continue to focus on being a company that grows in a sustainable manner so that we can provide an opportunity to better the lives of people around the world for generations to come."
About LifeVantage Corporation
LifeVantage Corporation (Nasdaq:LFVN), is a science based network marketing company dedicated to visionary science that looks to transform health, wellness and anti-aging internally and externally at the cellular level. T
he company is the maker of the Protandim® line of scientifically validated dietary supplement, the TrueScience® Anti-Aging Skin Care Regimen, Canine Health®, the AXIO® energy product line and the PhysIQ™ smart weight management system. LifeVantage was founded in 2003 and is headquartered in Salt Lake City, Utah.