Nichelle Robinson Reaches Global Rank With Total Life Changes
August 5, 2016
By Nicole Dunkley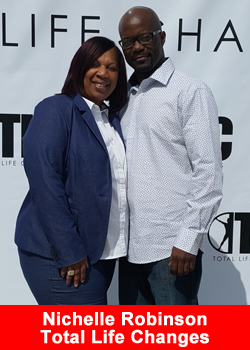 Nichelle "Nikki" Robinson is a native of Philadelphia where she currently lives with her husband, Vernon and their two children, Kyree (24) and Nasya (14). Nichelle has served as a medical assistant for many years, helping to support their family's income.
But like so many families in the United States and abroad, two-family incomes are often just not enough to supplement the costs of items that are not covered under traditional health, dental and vision care. Such was the case for Nichelle and her daughter that required braces.
"I was already working full-time as was my husband, and I was searching for additional income. I'm fairly active on social media and I was following my friend and current TLC Ambassador, Bonita McClain. I remember when she announced that she joined Total Life Changes and was posting her results of weight loss while using the products. It really caught my attention. I was very apprehensive about doing network marketing again, because I don't have the personality that normally has success in the industry. I'm quiet and a little shy and I'm typically petrified of speaking in front of people," explains Robinson.
Nichelle reached out to Bonita McClain and made a decision to become an IBO in hopes of earning additional income to assist in paying for her daughter's braces, which typically costs in excess of $5,000. She soon received her first pack of Iaso® Tea and lost five pounds in only three days. Nichelle plugged into the system and began acquiring customers quickly.
As she retailed several of the most popular TLC products, she continued to discuss the opportunity at home parties and conference calls. "TLC is different because of the retail component in the compensation plan. Before I got my initial package, it was already sold, just by me sharing my testimony. I was able to sell over 70 packs of our Iaso® Tea in less than two weeks. Even if you don't have a team you are still able to make really good money retailing," explains Nichelle.
After just two years as an active IBO for Total Life Changes, Nichelle "Nikki" Robinson has reached a Global Director Rank while working full-time as a medical assistant. Her confidence has improved as her business has grown. She has been recognized as a multiple six-figure earner.
Nichelle summarizes her success with Total Life Changes:
"I'm here today, a complete miracle, as a Global Director and making multiple six figures after two years in the business. I still pinch myself when I think of how this progressive compensation plan can help anyone who has a strong 'why' and a servant work ethic. As you can imagine, my daughter's braces have been paid in full, she got them off just in time for her 8th grade dance and graduation. With the income I've earned, we have been able to purchase a beautiful new home in a better school district, just in time for my daughter entering high school. My why has changed from when I originally started; I needed an extra $500 a month to get my daughter braces because our insurance denied us coverage; they said it wasn't medically necessary. We were living from paycheck to paycheck and couldn't afford $4800 for braces. But my new why is time freedom. I want to help others achieve financial and time freedom while living a healthier life. My short term goals are to retire from my day job and be more of a voice for the shy, quiet people; to let them know that in TLC anything is possible if you believe. My long term goals are to help others do the same; retire from their jobs, enjoy time with their family, really live life and leave a legacy for their families.
Nichelle has accomplished so much in just two years, building her TLC business and still working full-time. She has transformed her body and her back account. She used to wear a size 22 and is now down to a size 14 while using TLC products. Her children are happier, her husband is happier and they are taking full advantage of the culture that has been created within Total Life Changes.
"We have grown to know each other and become a true family in TLC. In June, I had the pleasure of cheering for the first documented six-figure earner and now National Director on my team, Cyrena Malloy from Delaware. I was so proud to witness her walk across the stage to receive her well-deserved recognition ring and celebratory check for her accomplishments. I enjoyed spending time at each Global 1 Regional Event we had leading up to the Atlanta event at the Cobb Galleria. I think that's another reason why TLC is different. We celebrate each other, and in sad times we also grieve together," says Robinson.
About Total Life Changes
Total Life Changes® offers a diverse product portfolio of health, wellness and beauty products. President and newly named, Tea Executive Officer, Jack Fallon created TLC over 16 years ago with a single product: NutraBurst®.
Since that time, TLC has continued to develop the Iaso® brand of products to include a diverse and attractive product portfolio matched with a hybrid binary system that allows IBOs of TLC to be compensated quickly for introducing new customers to our products and business opportunity. Find out why so many are saying, "It's just different over here."