United Games To Hit Pause Button On Affiliate Program
August 10, 2016
By Team Business For Home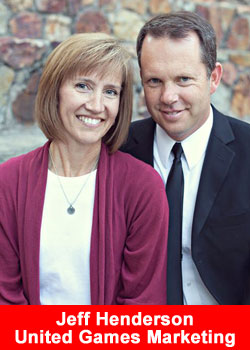 United Games (UG), maker of the soon-to-be-released, interactive sports app will stop accepting applications for new Affiliates in the not-distant future.
This signals the beginning of Phase 2 for United Games, said an Independent Affiliate.
Our first phase has been focused on creating our Affiliate organization. The response has been remarkable. Since May 26, we have created a team that spans almost every nation on earth. Thousands of people, including high-profile sports figures and celebrities, have joined us as Affiliates.
They see the enormous income potential of being part of the release of this app.
The reason for curtailing new Affiliate enrollments is that we're moving into the player acquisition phase. Affiliates get paid whenever players purchase tokens or acquire tokens through advertising offers. Players won't know that Affiliates even exist. All they'll know is the name of the game itself and the fun they're having playing it.
The exact date of the pause has not been announced, but it will be released this fall in time to play some NFL football. Once released, the app will be available for download through the app stores.
Pokemon Go broke all records with 50,000 downloads in the first 4 hours. Our sales and marketing team in conjunction with our Affiliate organization could unify in a way to also have that many downloads or more. If that happens, we could get millions of dollars of free press like Pokemon Go did. That will open the floodgates of downloads, which will also generate a lot of revenue for the company and Affiliates.
United Games is using a "freemium" download model. Players can download and play the game for free, but they can unlock greater game play and additional features in the app if they purchase tokens, the game's virtual game currency, or watch targeted advertising similar to other popular games. Candy Crush did $375 million in revenue in the first quarter of 2015 alone using this model of play.
The company is paying 43%-45% of their revenue to Affiliates. There are several different revenue streams that are paid to affiliates.
Because of the viral nature of this app and because sports is a trillion-dollar industry, it will be a global phenomenon.
Putting a cap on the Affiliate program ensures that our income will be stable. And as we incorporate additional sports, especially globally-embraced sports, we expect we'll see incomes grow," said John Zehr, an independent affiliate.
We're still looking for top-notch Affiliates, said Zehr. Because we only have a handful of weeks to build our teams, we're looking for the best of the best. Some of the best-known professional athletes in the world have joined us as Affiliates, along with celebrities and top marketers. We're looking for influencers, people who have significant social media presence, as well as the ability to connect and create social movement.
Importantly, United Games is not designed for gambling. Companies like FanDuel and DraftKings have come under fire and forced to pay large fines to state governments that regulate online gambling.
"United Games won't have that problem. It's not a gambling site so it will be suitable for players of all ages. We'll be rewarded for performance and participation with points and status, and as we reach personal achievements, we can even get awards like t-shirts, hats, and tickets to games,".
Becoming an Affiliate with UG is by invitation only. Once the game goes live, registration to be an Affiliate will be a one-time $29.99 fee for a technology suite and a monthly technology subscription of $9.99. Once the app goes live, it won't be possible to become an Affiliate until UG opens it up again, if they choose to do so.