Youngevity Acquires Renew Interests LLC – Sozo Global
August 10, 2016
By Nicole Dunkley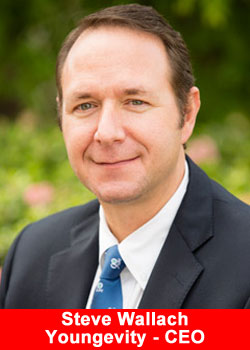 Youngevity International, Inc., a global direct marketer of nutritional and lifestyle products – a Triple AAA+ classified opportunity by Business For Home – and also a vertically-integrated producer of gourmet coffees for the commercial, retail and direct sales channels, announced today that the Company has acquired assets of Renew Interests, LLC which includes SOZO Global and Integris brands and products.
These two companies have extensive quality product lines including: Nutrition, Coffee, Weight Loss, Energy, and Skin Care. SOZO and Integris when combined, are expected to bring a significant network of distributors and customers to Youngevity.
Steve Wallach, Youngevity CEO, stated,
The brands we acquired in this transaction exceed our high and stringent quality standards. I believe Sozo's emphasis on the coffee berry as an ingredient will have particular appeal to our growing customer base.
I am excited by the potential to leverage Youngevity's coffee assets including the capabilities provided by our Nicaraguan based Fair Trade/Organic certified plantation into Sozo's brands that utilize the benefits of coffee berry as a critical ingredient.
Dave Briskie, President and CFO of Youngevity, stated,
We are very pleased to conclude and announce the acquisition of assets of Renew along with SOZO Global and Integris Brands. After a thorough examination of their business, the culture of their distributors and having the opportunity to evaluate their products we are enthusiastic about the synergies that are apparent from this integration.
Mark Adams, President, CEO and Cofounder of SOZO Global, stated,
We believe we have a business with extraordinary potential because of the strength of our products and brands and the capabilities of our outstanding distributors.
Our team at SOZO Global viewed the unique opportunity provided through Youngevity's platform as an opportunity we could not pass up. Youngevity International is a leader in successfully integrating direct selling acquisitions onto their platform.
Mr. Adams continued, Youngevity's extensive product lines, business structure and support systems, along with the depth of the Youngevity management team have us optimistic regarding our ability to quickly reach our revenue potential.
About Youngevity International, Inc.
Youngevity International, Inc. is a fast-growing, innovative, multi-dimensional company that offers a wide range of consumer products and services, primarily through person-to-person selling relationships that comprise a network of networks.
The Company also is a vertically-integrated producer of the finest coffees for the commercial, retail and direct sales channels. The Company was formed after the merger of Youngevity Essential Life Sciences and Javalution Coffee Company in the summer of 2011.
The company was formerly known as AL International, Inc. and changed its name to Youngevity International, Inc. in July 2013.