Buyezee reports 179% growth
September 2, 2016
By Team Business For Home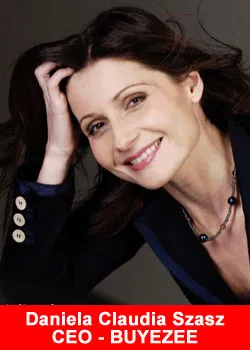 BUYEZEE presents search E-commerce data to their members in an easy, quick and informative template from a database compiled of millions of products from thousands of retailers and has a uni-level compensation plan.
The company continues to grow, with each month setting new company records in terms of new shopreneurs, sales figures and website visitors, proving that their E-Commerce concept is now an accepted and highly profitable business.
August, typically seen as the main month for vacation, has not affected the Buyezee growth, in the past 30 days the sales figures have increased 179% and this has been represented by record incomes being earned by their shopreneurs and shop owners.
Daniela C. Szasz – Buyezee CEO, commented:
As we are starting to enter into our momentum stage, we are now seeing people earn in excess of 5 figures in their first 30 days. In August we had reps in Germany and Vietnam earn 5 figures in their first month of business.
Antony Spear – Buyezee CTO, added –
We are incredibly proud and happy to see the Buyezee business expanding globally.
We are anticipating rapid continued growth as our brand and business model is becoming more recognised and accepted, this will lead to increased incomes being earned in record time.
ABOUT BUYEZEE:
A global provider of fully serviced eCommerce shops that can empower individuals and companies alike to immediately brand, promote and profit from the Multi Trillion Dollar marketplace with little or no previous knowledge or experience.
BUYEZEE's innovative eCommerce products are marketed person-to-person by independent Shopreneurs on a global basis.
From its conception, BUYEZEE™ have chosen and consulted the most competent people available, thus ensuring that no beta testing is carried out at the expense of the network. Much time, money, planning and resources has been invested into product development to make this a powerful and leading global opportunity.
More Information can be obtained from our corporate website: https://www.buyezee.net
DISCLAIMER:
The incomes and lifestyles depicted in this article are not representative of the results achieved by most Buyezee Shopreneurs & Shop Owner. Buyezee does not guarantee your financial success.