MONAT Global Launches MONAT Motor Club
September 23, 2016
By Nicole Dunkley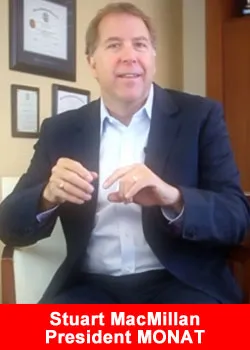 Award-winning direct selling company MONAT Global made a big announcement yesterday during its second Leadership Summit, which took place in Seattle, Washington this year: the introduction of its luxury vehicle bonus program, MONAT Motor Club.
The creation of a car program is a big leap forward that very few companies take within the first two years of their foundation. But in this short time, MONAT has emphasized a spirit of innovation and excellence unlike any other company in the direct sales arena, both with its products and its business offering.
With the inception of MONAT Motor Club, the company adds another rewarding aspect to its already lucrative compensation plan. Specifically, MONAT Motor Club rewards top-performing independent distributors, called Market Partners, for their consistency in the business. Qualifying Market Partners in both the U.S. and Canada are eligible for any model white Cadillac.
"Our Market Partners deserve to be recognized and celebrated for their triumphs, big and small", says MONAT's Chairman, Luis Urdaneta. "MONAT Motor Club is not just about attaining a tangible object, it's about the satisfaction of having accomplished one's goals while helping others do the same. It's an opportunity for them to get motivated and motivate others to pursue their dreams".
"We have accomplished many milestones to-date", says MONAT's CEO Rayner Urdaneta, "but our greatest achievements have been helping people reach their goals, regain their self-confidence, and become better entrepreneurs." Urdaneta adds, "MONAT Motor Club is our way of celebrating the successes of our excelling Market Partners and inspiring others at MONAT to remain driven and growing both on a personal level and professionally."
"We don't just want them to reach the top, we want to equip them to stay on top with the same drive that brought them there", says MONAT's president, Stuart MacMillan. "As we continue to introduce new products, new tools and new rewards, we are reinforcing for our field leaders that they are in the right place at the right time and the only thing that stands between them and their dreams is desire and hard work."
About MONAT Global
MONAT Global is a wholly owned subsidiary of Alcora Corp., whose holdings include L'EUDINE Global and B&R Products. MONAT was founded in 2014 and entered the multi-billion dollar hair care market, while providing ground-breaking opportunities through a novel Social Marketing approach to Direct Sales and one of the most generous compensation plans in the U.S. market.