Total Life Changes Has Momentum In Latin America Market
November 23, 2016
By Nicole Dunkley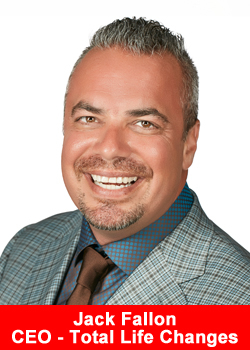 Total Life Changes recently appointed two new positions to foster its growth in Central and South America. Alexandra Serna now serves as the General Manager and Darwin Almeida was promoted to the Regional Manager of Latin America.
There have been several changes in the structure of customer relations and communication amongst country management as well.
The results of these changes will be evaluated over the next two months, but in the meantime, the Independent Business Owners have maintained their focus by sharing TLC products, acquiring new customers and sharing the vision of earning residual income by owning their own business.
Regional Director Alexander P. Morales is one example of a TLC representative that has remained determined for the past three years to share his story and build a network of team members that share his personal vision. Morales considers himself to be a free spirit who cares about the most important things in life; health and humility.
"I love network marketing because I'm in business for myself, but not by myself. Network Marketing is one of the few industries that has the potential to give someone freedom in so many ways. Three years ago, I decided to join TLC thanks to my late friend and mentor Fred Herzog. His legacy will always be present in my life. With his help I took everything to the next level, his principles of success and life skills were a winning combination. He always put in the time and effort to guide me, teach me what I needed to learn and the required action I needed to take to be successful. He never put me down. He always guided me through a positive mindset to build my business."
Alexander P. Morales grew up in El Salvador and spends much of his time these days traveling between Bogota and San Salvador meeting with business partners and mentoring his network of business partners. Morales was recently recognized in Dominican Republic with a $100,000 earner ring.
"I have found the perfect opportunity for personal and professional growth, I am in the perfect place to develop, in my personal opinion, in the best profession on earth. We live in a world that moves at incredible speed. Today it is very easy to make the right decisions as we all have the information available because of the development of technology. In my case, saying yes to TLC quickly, allowed me to be one of the top distributors in Latin America. Remember, it is a business opportunity. You can wait as long as you want, but success does not wait for anyone. Keep in mind this quote by Alejandro Jodorowsky, Birds born in a cage think flying is an illness," adds Morales.
Another young rising star in Latin America is Executive Director Ania Barreto. Network marketing landed in her lap by chance. Like so many high school graduates, Ania contemplated her future, how she would reach her dreams and what life had in store for her. She maintained her strong faith in God and was insistent that she would be led by his word.
"I strongly believe that dreams drive us forward. Whatever you dream of being, you can achieve it. I met Network Marketing industry by coincidence, one night I couldn't sleep and found a video on Facebook. I watched it and that night my life changed. I fell in love with Total Life Changes. I contacted the person who posted that video and immediately joined his team. Although I had no experience with network marketing, my heart always told me that I was in the right place. I came to realize that when you are focused on what you want, the universe will bend to your needs. I also learned that the secret to success in the MLM industry is to surround yourself with successful people and find mentors who had also achieved great things . My guiding light and role model in this TLC journey was Mr. Christian Prada," Barreto explains.
Despite the fact that she was really committed to help people change their lives, she had to be patient. She remained focused and started to reach her goals. She went from living in a house without doors and windows to spending her days in a luxury apartment, where her family is happy, enjoying the lifestyle that she always dreamed of. "Thanks to TLC, I have grown as a person and professionally. I have achieved significant positions in my organization. Recently, I reached the Executive Director rank and my team and I have future goals to continue working to help change peoples' lives and support TLC´s vision of becoming a billion-dollar company, adds Barreto.
The future of Latin America is very bright; with many more young entrepreneurs well on their way to helping others reach their potential, their health and wellness goals and sharing a vision for building residual income to foster their dreams.
About Total Life Changes
Total Life Changes® offers an amazing line of health and beauty products along with a great business opportunity. Founder and CEO Jack Fallon created TLC over 16 years ago with a single multivitamin product named NutraBurst®. TLC has since grown the Iaso® brand of products like the popular Iaso® Tea. The hybrid binary system allows IBOs of TLC to be compensated quickly for introducing new reps to the products and business opportunity. TLC is dedicated to providing the greatest opportunity for you to feel healthier and flourish financially. Visit Total Life Changes to find out more about the products and business opportunity.