Stormy Wellington Reaches Executive Ambassador Rank With Total Life Changes
December 8, 2016
By Nicole Dunkley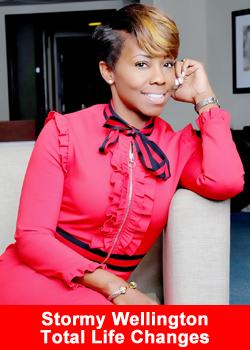 The network marketing industry is filled with many self-motivated and talented entrepreneurs. Most of these dynamic individuals possess one very strong characteristic that drives their success in building a network of business partners.
Very seldom can one find an entrepreneur that embodies numerous characteristics that lend themselves to growing not only a business, but a culture of love, respect and virtue.
Stormy Wellington exemplifies these uncommon attributes in an industry filled with competitive personalities.
The combination of faith, drive and intelligence has propelled Stormy to the elite ranks of Executive Ambassador at Total Life Changes.
Stormy has refined her ability to mentor her business partners individually, while attracting hundreds at a time on daily calls and live social media feeds. She is the quintessence of this generation's multi-talented leader in a very competitive market. Stormy leads with tough love. If you hesitate on your decision to consider a product purchase or to join her movement, it will likely be the last time you speak with her.
Successful entrepreneurs understand that business is a number's game; the more you reach, the more likely you will find success.
Well, Ms. Wellington has reached thousands on her way to becoming a top-earner and now Executive Ambassador in Total Life Changes. Her primary goal is to help 1,000 families earn over $100,000 dollars.
Stormy is currently living in a recently purchased home in Miramar, Florida just outside of Miami. "Prior to Total Life Changes I was renting my home, and I couldn't afford to pay my rent. Now, because of TLC, I've been able to go from 'renter ship' to ownership. I own a 5,000-square foot home in a gated community. I feel safe and proud. I have always wanted to own my home, free and clear, so the burden of paying a mortgage would not be over my head. Because of TLC, I have been able to do just that, as well as fully remodel and decorate my home to my liking," says Wellington.
Stormy was approached by current VP of North America Sales, Kenny E. Lloyd and his wife Executive Ambassador, Chante Lloyd soon after they joined Total Life Changes in late 2013. Stormy passed on the opportunity. Stormy explains regretting to join right away; "Both Kenny and Chante always say, to this very day, that they knew this was where I belonged. They say that it was only a matter of time until I was coming, and now that I'm here, the team is complete. I thank God for Kenny and Chante for never giving up on me, and for following up with me, as I painfully watched them making all the money from the sidelines."
Starting a new business venture is an exhilarating experience for entrepreneurs. Stormy provides some insight into launching a business the right way. She explained that she remained extremely focused during the first 48 hours of joining Total Life Changes. There was no room for doubts. She had a deep belief that she was going to regain the respect that she had lost in the industry.
"I ran as hard and fast as I could to create new stories utilizing the TLC platform, products and compensation plan. I believe that money loves speed, and even though I didn't know everything about the comp plan, I understood fast start bonuses and I understood retail. So, I set two major goals for my first 30 days with the company. I was going to recruit 100 people and lose as much weight as I could using the products so that I had a product testimony. I've said many times that you can't sell a dream looking like a nightmare and that seems to resonate with my team, explains Wellington.
Stormy remains faithful and committed to her family, friends and most importantly her heavenly father. Her why is embedded in her faith and she strives to make God the Father proud of her actions each day. She understands that she has a greater purpose while she lives her physical life her on Earth. She wants others to be inspired by her words and her actions. She has taken all this success and shared it with her family and friends.
She enjoys being able to provide for their immediate needs. "Being a light in this dark world is one of my greatest desires. My ultimate mission was to help 1,000 families make six figures, but now it's to help 1,000 families become millionaires before I leave this earth, adds Stormy.
About Total Life Changes
Total Life Changes® offers a diverse product portfolio of health, wellness and beauty products. President and newly named, Tea Executive Officer, Jack Fallon created TLC over 16 years ago with a single product: NutraBurst®.
Since that time, TLC has continued to develop the Iaso® brand of products to include a diverse and attractive product portfolio matched with a hybrid binary system that allows IBOs of TLC to be compensated quickly for introducing new customers to our products and business opportunity. Find out why so many are saying, "It's just different over here."