Beauty Company Coty Intends To Acquire Younique For $600 Million
January 12, 2017
By Team Business For Home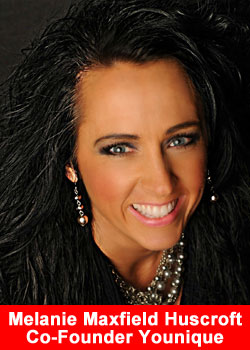 Coty Inc. announced today that it has entered into a partnership with the Founders of Younique, a Triple A+ classified opportunity By Business For Home – and a leading online peer-to-peer social selling platform in beauty.
Under the proposed agreement, Coty intends to acquire 60% of Younique while the Founders will own the remaining 40%. Younique's Founder and current CEO, Derek Maxfield, and Chief Visionary Officer, Melanie Huscroft, will continue to lead the business in the new partnership.
Younique was founded in 2012 in the United States by siblings Derek Maxfield and Melanie Huscroft, with a mission to uplift, empower and validate women across the globe. Younique's innovative makeup and skin care products are sold through its disruptive peer-to-peer e-commerce platform. This platform enables Younique's community of independent presenters to leverage social media in marketing and distributing Younique's line of innovative beauty products directly to consumers.
Younique's highly scalable technology platform is built for mobile-first e-commerce and seamless global expansion, with approximately 200,000 active presenters and over 4.1 million consumers in 10 countries, including the U.S., U.K., Canada, Australia, New Zealand, Germany, Mexico, France, Spain and Hong Kong.
Younique expects to generate approximately $400 million in net revenues in 2016.
This partnership will combine Younique's high growth e-commerce platform and social selling direct-to-consumer business model with Coty's beauty product R&D and innovation know-how, as well as its extensive manufacturing and supply chain capabilities. Together, Younique and Coty expect to accelerate the product offering and geographical expansion of Younique.
Coty will acquire a 60% stake of Younique for approximately $600 million in cash which will be funded through a combination of cash on hand and available debt facilities with marginal impact on Coty's leverage ratio.
The transaction is subject to customary closing conditions and is expected to close during Coty's 2017 fiscal third quarter. The transaction is expected to be immediately accretive to Coty's top-line growth, EBITDA margin and FY17 earnings.
Camillo Pane, Coty's Chief Executive Officer, said,
"Derek and Melanie are tremendous entrepreneurs who have built one of the most engaging and fastest growing e-commerce companies in beauty.
Alongside the rest of Younique's team and in partnership with their presenters, they have been able to impact the lives of millions of consumers across a number of countries with a mission to uplift and empower women. We look forward to working with them to continue supporting this mission and building Younique into a leading global e-commerce beauty company."
Derek Maxfield, Younique's CEO and Founder, said, "We are thrilled to have Coty as a partner and expect that together we will be able to take Younique to new heights. Coty and Younique share a passion for beauty, an entrepreneurial spirit, as well as complementary missions.
I am very excited about this partnership and everything it can bring to Younique's employees, presenters and loyal consumers across the world."
Younique will operate as a separate business within Coty's Consumer Beauty division. It will continue to be led by its current CEO, Derek Maxfield, Chief Visionary Officer, Melanie Huscroft, and Younique's management team, in partnership with Coty.
Coty is proud to support the further advancement of the Younique Foundation and its mission to support and empower victims of sexual abuse and their families.
About Coty Inc.
Coty is one of the world's largest beauty companies with approximately $9 billion in revenue, with a purpose to celebrate and liberate the diversity of consumers' beauty. Its strong entrepreneurial heritage has created an iconic portfolio of leading beauty brands. Coty is the global leader in fragrance, a strong number two in professional salon hair color & styling, and number three in color cosmetics.
Coty operates three divisions – Coty Consumer Beauty, which is focused on color cosmetics, retail hair coloring and styling products, body care and mass fragrances sold primarily in the mass retail channels with brands such as COVERGIRL, Max Factor and Rimmel; Coty Luxury, which is focused on prestige fragrances and skincare with brands such as Calvin Klein, Marc Jacobs, Hugo Boss, Gucci and philosophy; and Coty Professional Beauty, which is focused on servicing salon owners and professionals in both hair and nail, with brands such as Wella Professionals, Sebastian Professional and OPI. Coty has approximately 20,000 colleagues globally and its products are sold in over 130 countries. Coty and its brands are committed to a range of social causes as well as seeking to minimize its impact on the environment. For additional information about Coty Inc., please visit www.coty.com.
About Younique
Founded in 2012 by Derek Maxfield and Melanie Huscroft, Younique is a disruptive, peer-to-peer e-commerce platform that enables its community of independent presenters to leverage social media to market and distribute Younique's line of innovative beauty products. Younique offers high-quality cosmetic and skin care products via its approximately 200,000 active presenters, selling in 10 countries.
The company's product philosophy focuses on the intersection of science and nature to offer innovative and trend-leading products that support strong brand recognition with loyal presenters and consumers. Younique is a mission-first company, committed to uplifting, empowering and validating women everywhere. The company currently operates in the following markets: United States, Canada, Mexico, Australia, New Zealand, the United Kingdom, Germany, France, Spain, and Hong Kong. Younique is a high growth beauty business and expects to generate approximately $400 million in net revenues in 2016 with strong profitability. Discover more at: www.youniqueproducts.com