Germany's Top Direct Selling Company LR Health And Beauty In Decline
January 28, 2017
By Team Business For Home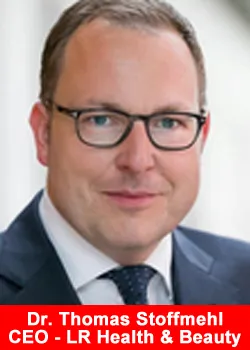 According to an article in Netcoo News, Germany's leading Direct Selling Magazine, LR Health and Beauty (LR) is in trouble.
It is, or was, one of Germany's largest Direct Selling companies with an annual revenue of $250 million.
As Business For Home has pointed out in this article: Direct Selling Field CEO or Ivory Tower CEO – If a CEO has NO Field experience, changes he/she will bring the company and distributors much growth is not big….
To be at the helmet of a Network Marketing company can not be learned in Business School.
Field experience…. been in the trenches… did the tough job….
Who make or break a Network Marketing company?
Distributors and customers, not accountants. Focus on share holder value and forget your distributors? Fast lane to decline.
Netcoo magazine:
But what is missing what obviously other companies have?
LR lack the true product innovations. Product innovations, which are characterized by great visions that really inspire sales.
LR lacks a compensation plan that focuses on business opportunity, creates a compensation plan for recruitment incentives, a plan that permanently creates income for the lower bonuses.
LR lacks the network marketing culture and a highly motivated consulting company, which can make a network marketing company quite big.
At the top of other companies are, for example, the founders themselves, they know the needs of their consultants.
Because they live the distribution themselves, distribute themselves and lead their distribution.
Source: Netcoo Magazine
About LR Health & Beauty
Under the motto More quality for your life", the LR Group with headquarters in Ahlen/Westphalia produces and markets more than 600 health and beauty products in 28 countries.
This includes body care and cosmetic products, perfumes and dietary supplements. In the fragrance segment, the company, which was founded in 1985, cooperates with celebrities such as Bruce Willis, Karolina Kurkova and Guido Maria Kretschmer. With more than 1,200 employees and thousands of registered sales partners and customers, LR is one of Europe's leading direct sales enterprises.
In Germany, LR products can be ordered 24/7 from the company's customer online shop. LR's strong market position is based above all on a high-quality product range and an attractive bonus and training plan which is unsurpassed in the industry. In 2009, LR established the LR Global Kids Fund which provides efficient and unbureaucratic support for deprived children and their families in many different countries around the world in cooperation with local institutions.