LR Health & Beauty 2016 Sales Up 15% To Euro 258 Million
March 1, 2017
By Team Business For Home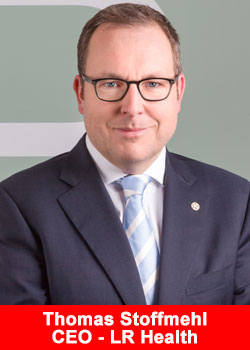 LR Health & Beauty, The German based network marketing company recorded sales of nearly EUR 258 million, up 15 percent on a year-on-year basis (net of currency effects).
Key growth drivers in turnover were the international markets such as Turkey, Italy, Poland, Belgium, the Netherlands and Spain with double-digit growth. But in Germany as well, LR grew by almost 20 percent in the acquisition of new sales partners, thus laying the foundation for sustainable success.
This is an excellent development that confirms the confidence in our business model, says Dr. Thomas Stoffmehl, CEO of LR Health & Beauty and spokesman of the Management Board.
In focus for 2017: Support of sales partners
The targeted support of the sales partners, the development of careers and, as a result, the sustained expansion of sales structures take centre stage in 2017. As a genuine network marketing company, the intensive exchange and dialogue with our sales partners is essential for us. This is the only way to ensure that the sales partners are supported in a needs-oriented way, to win them over to our business and bind them in the long term," says Dr. Thomas Stoffmehl.
Site investment: Extension of the production capacities
The expansion of the company site in Ahlen is part of the company's sustainable growth strategy. A production site for the Aloe Vera Drinking gels is being built there and will be completed by the end of 2017. With a turnover of 39%, the Aloe Vera product segment is one of the most important core competencies of LR.
With an annual harvesting volume of 12,000 tonnes of aloe vera leaves, the company is among the world's largest manufacturers of aloe vera products. The production plant will be state-of-the-art and closely interlinked with logistics. LR thus strengthens its claim Made in Germany with the highest quality standards.
The direct selling industry faces challenges over the next years. "In the age of digitalisation, it is important to modernise the business model, continuously expand a first-class, innovative product portfolio and build up a motivated partner organisation to remain well-positioned for a promising future. With a strong team of over 1,200 LR employees worldwide, we are well positioned to tackle these challenges," says Dr. Thomas Stoffmehl.
LR Health & Beauty
Under the motto "More quality for your life", the LR Group with headquarters in Ahlen/Westphalia produces and markets various health and beauty products in around 28 countries. The range includes care and decorative cosmetics, dietary supplements and perfumes. In the fragrance segment, the company, which was in founded in 1985, has established exclusive cooperations with celebrities such as Guido Maria Kretschmer, Karolina Kurkova and Bruce Willis.
With more than 1,200 employees as well as thousands of registered sales partners and customers, LR is one of Europe's leading direct sales enterprises. Since 2014, LR products are also available at the company's customer online shop. LR's strong market position is based above all on a high-quality product range and an attractive bonus and training plan which is unsurpassed in the industry. LR also established the LR Global Kids Fund e. V. which provides efficient and unbureaucratic support for deprived children and their families in many different countries around the world in cooperation with local institutions.