QNET Appoints Trevor Kuna As CEO
March 27, 2017
By Team Business For Home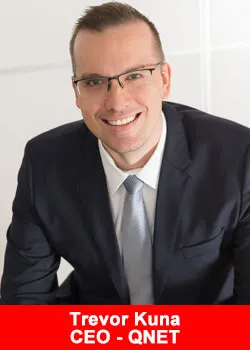 Trevor Kuna has been appointed Chief Executive Officer of Global Direct Selling Company, QNET with immediate effect and will be based at its Regional Head Office here.
Trevor, who was previously the Chief Marketing Officer, will provide leadership and strategic vision to keep QNET and its network ahead of today's rapid pace of change and will ensure it remains at the forefront of the global direct selling industry.
Trevor, originally from Canada, joined QNET in 2008, bringing extensive marketing experience. He moved to Bangkok to join QNET in 2008 and subsequently relocated to QNET's Operational Headquarters in Malaysia in early 2015.
"I am very excited to take on the CEO role in in this dynamic organisation that continues to be the growth engine for so many of our global Independent Representatives (IRs) and customers. I intend to bring around some exciting transformations and developments and I look forward to working closely with our corporate team to develop progressive, innovative and sustainable solutions for the wide spectrum of people we serve," noted Trevor.
Trevor sees QNET continuing to raise its game and revisit its core strengths to stay relevant to its IRs and customers. "As QNET entered its 19th year of operations this year, we aim to continually innovate and very much want to be advocates of the direct selling industry in various markets that we operate in as well as ensure ethical practices are the norm.
"To stay relevant in a changing market, we are engaging enthusiastically with our tech-savvy IRs and customers via timely and prompt digital channels.
In terms of growth, we want to strengthen our presence in India, Turkey and the UAE. For the next three to five years, the vision is very much about really building a strong retail customer base with the help of our distributors," explained Trevor.
Touching on Malaysia, Trevor sees the direct selling industry as very competitive and evolved, adding that QNET needs to adapt to the market, the economy and the emergence of millennials in Malaysia.
He also pointed out that it is very comforting to see how the Malaysian government is embracing direct selling as an opportunity for people from all walks of life. I believe this industry is all about making people better. Malaysia is so diverse and still so unique in its culture. I think Malaysia is the Canada of South East Asia as you have so many different cultures mixing and mingling and thriving."
Trevor also highlighted that 2017 is a very exciting year for QNET.
"We have got an evolution of our holiday online travel agency concept called Tripsavr which is now opening new doors for our distributors. We are also introducing an evolution of the latest technology on our energy line products as well as an evolution of our German engineered water filtration system. Additionally, QNET is looking at delivering a state of the art, cutting-edge skin care line for women while also looking at some unique nutritionals.
Trevor concluded that QNET's strength reflects the continuing worldwide appeal of owning your own business. "We made good progress in 2016. We are grateful to our IRs and employees globally. As we move into 2017, we are taking actions to deliver more consistent performance across our markets, with Representative engagement remaining a key priority in our growth plan."
About QNET
As a prominent Asian direct selling company, QNET provides a range of products that are offered through the e-commerce platform by Independent Representatives (IRs) in over 100 countries. The company also has offices and agencies in 25 countries worldwide, and more than 50 stockists, apart from localized operations or franchisees in a number of countries.
QNET is a member of the Direct Selling Association of Malaysia, the Direct Selling Association of Singapore, Direct Selling Association of the Philippines, the Direct Selling Association of Indonesia, the Hong Kong Health Food Association and the Health Supplements Industry Association of Singapore among others.
QNET is also active in sports sponsorships around the world, including football (Direct Selling Partner of Manchester City Football Club), Formula One, badminton and more, due to the company's strong belief that the drive, passion and teamwork of sports mirrors that of QNET. For more information, please visit QNET's website at www.qnet.net