Vida Divina's Leah Coleman: "Fear Is Not The Answer"
March 17, 2017
By Team Business For Home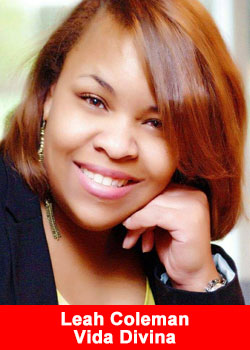 Powerhouse industry leader Leah Coleman has grown successfully in the profession of Network Marketing and has a mass following of people that love who she is and what she has done for them. She started as a traveling mom for 18 years.
She faced poverty, missed too many important memories, and her heart was filled with difficulties that she has endured while employed at a traditional job.
Leah quickly realized that she had to do something about her position and it had to be quick. It is said that you are sent exactly what you need at the right time. For Leah, it was Network Marketing, and her life has never been the same since.
Now as a Vida Divina Representative, Leah is quickly moving into the top ranks and creating a unique momentum within her team that is second to none. Leah has grown a binary of 6,000 reps her first month in. Her work ethics are amazing, and the CEO, Armand Puyolt, calls her a Diamond Mine, and he projects her to be one of the top industry leaders worldwide.
Leah Coleman Recalls:
"The worst time of my life was when I was a working, 9 to 5 traveling mom. Out of 24 hours in the day, five of those hours were spent commuting back and forth from New Jersey to New York for work. Five days a week I faced poverty and missed precious memories of my family while employed at a traditional corporate job. Every day, I would dread the long commute and say to myself 'there has to be a better way.' I only did it to chase the NYC money and pay bills, but I was so unhappy. I count not understand how people would work 40 or more hours a week for 40 years to only retire on 40% of their income."
Witnessing Network Marketing first hand, Leah saw the foundation that the Network Marketing model has to offer. She was intrigued with the many ways that one could make countless money from home. She started attending trainings and empowering seminars to master her craft, Leah embarked as a powerful business woman and opened her eyes to the fact that you are able to gain time and financial freedom.
Leah Coleman joined Vida Divina for a couple of different reasons. She knew that this project was going to be huge: a company that the average person would have a great chance to win BIG. That through the years she has been in the profession of Network Marketing, Leah was reminded that if a company has a hot product, it will be easy for the average person to introduce it to the world and Vida Divina has many hot products.
Leah Coleman continues:
"I found out about Vida Divina through an opportunity call that was taking place one night. The call gave details about the company, products and compensation plan. When I heard about the CEO Mr. Armand Puyolt, I automatically reached out to the person who was hosting the call which was my now sponsor Raychel Stokes Small. I did not know her prior and that is what makes the industry unique. You can build relationships with people all over the world."
Raychel Stokes Small is quoted:
"When Leah contacted me directly about joining Vida Divina. She was most interested in taking her talents and skills to a company where she could put down roots and experience a true growing family in the profession. Her attitude and perseverance that I have seen in this woman will not allow Leah to stop her from reaching her Vision for the success of Vida Divina".
Because Leah understood the importance of reaching success, she is adamant about encouraging others to "win" as well—her one year goal plan with Vida Divina is to help as many people to understand that the home-based businesses can and will allow time and financial freedom for all of those that are dedicated to financial legacy.
Leah Coleman continues:
"I see myself helping to lead the vision of Vida Divina into many households all over the world with the help of my team. I also see myself helping more Moms that want more time and financial freedom for their families. As a mom, I know an extra $500-$1,000 in people's households means so much. Being able to do extra for the family puts a smile on a mom or dad's face."
Nicole Rene-Robinson tell us;
"Leah is more than my sponsor, she is my friend. There is never a time I can't go to her for help. She fights for us, she helps any and everybody win, she is humble and I learn from her everyday. Three companies ago, we met in a hair salon because she had on a company shirt, I have always enjoyed her passion."
Leah Coleman weighed the options and saw that joining Vida Divina was nothing but a win-win situation because she realized that a small investment, a little faith and a lot of networking would result in a remunerative reward. Leah can say that she has successfully been working from home now for five years. With Vida Divina, she is currently leading her team to incredible economic growth.
Raychel Stokes Small continues:
"Leah Coleman is defiantly a Key Component to our organization as she brings energy, concerns and challenges that help us to bring more change and growth within our organization.
I believe Leah has the potential to become the Top Income Earner in Vida Divina and because of this, she will lay out a roadmap for many to follow their path to success."
Nicole Rene-Robinson said:
"I agree, Leah can break down the compensation plan like no other. This woman has the power to change the world. The sky's the limit for Leah! She is driven and determined. I see her being at the very top of this company!"
Armand Puyolt CEO Vida Divina comments:
"You know, when I started to built this Ark, Vida Divina, we knew our mission was to help all people around the world who need hope for something great in their lives, who need that one opportunity to take their family's life from Tragic to Magic. Yet what I did not expect was so many top industry earning leaders like Leah Coleman deciding to become part of Vida Divina, dropping their income and a successful team in another project and decide move over to Vida Divina and literally start over from nothing, it's only confirmation that what we have built is on the right path for something extremely Spectacular!"
Leah Coleman gracefully concludes:
"I am learning every day to grow and not look back on things that I wish I could have changed. I believe situations in life happens for a reason to give us the ability to take our mistakes and grow from them. As each day moves forward I know that I have to continue to be a student and watch others that have made it to the levels that I would like to achieve. So, I have learned that if you want to make it to the top, FEAR IS NOT THE ANSWER."
If you ever Network with this powerhouse woman as she can inspire almost anyone she encounters. Her aspiration is to bring more of awareness to Network Marketing and giving it the due respect it deserves as a profession as she touches as many people, especially mothers like herself, to earn and learn so empires can be made and legacies can be built.
About Vida Divina
Vida Divina had one of MLM's most Successful Launches in history. The company was founded by MLM Legend Armand Puyolt, who has been in the Top Earners ranks for over 25 years in the MLM arena as a distributor and selected by Business for Home as one of the ambassadors of the MLM Industry.
Now as CEO of Vida Divina, Armand Puyolt has a footprint into 10 countries, each with impressive Vida Divina corporate buildings and training centers, and distributing over a million products a month worldwide with in first 6 months of launch.
Vida Divina also currently ships their products to over 30 countries and owns 2 manufacturing facilities with over 260 patents for unique products.
As a debt free company, Vida Divina was created to be the Ark: to cary as many people to success as possible, helping people from all walks of life to have an opportunity to change the future of their family and themselves for life. For more information please visit www.vidadivina.com