Youngevity Acquires RicoLife
March 28, 2017
By Nicole Dunkley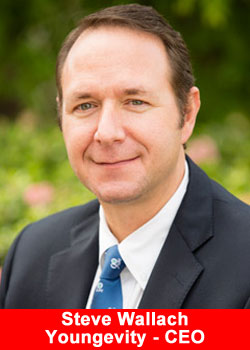 Youngevity International, Inc. (OTCQX: YGYI), a leading omni-direct lifestyle company, today announced it has completed its acquisition of RicoLife, a marketer of nutritionally charged teas, beneficial beverages and supplements.
RicoLife products remain available on RicoLife.com and are scheduled to be integrated in the Youngevity web and e-commerce site effective April 1, becoming a brand within the Youngevity nutrition category. The Founders of RicoLife – Alberto Arellano, Ricardo Arellano, and Raul Luna – will join Youngevity as Associates.
The primary nutritional differentiator for RicoLife has been its use of camellia sinensis, commonly known as "purple tea."
Purple tea is a variety of green tea developed in Kenya and its perceived benefits have been the subject of an initial small-scale clinical study in Japan. RicoLife products include tea, coffee, cleanses, energy and slimming supplements – all containing some form of camellia sinensis.
"The acquisition of RicoLife harnesses nutritional breakthroughs that broaden and extend our core nutritional product offerings," stated Steve Wallach, CEO and Co-Founder of Youngevity. "
The RicoLife brand and products compliment our existing Youngevity nutritional lines with products that are particularly popular in the United States and Latin America."
"RicoLife has attracted and retained a strong Millennial following in the United States, Mexico and Latin America – supported by the Founders, Distributors and growing customer base," continues Dave Briskie, President and CFO of Youngevity.
We expect that the high-energy RicoLife culture will help to fuel our millennial business strategy."
"Integrating RicoLife with Youngevity provides a natural synergy," explains Ricardo Arellano, Co-Founder of RicoLife.
"RicoLife was one of the pioneers in bringing camellia sinensis to market, just as Youngevity has been a pioneer in the health and nutrition sector for decades.
The expanded resources now available to our niche brand will allow us to continue to spread the benefits of camellia sinensis to a much wider audience."
Youngevity was founded upon the pioneering principles of Dr. Joel Wallach; always looking forward to the betterment of society. Today Youngevity continues to meet this mission with groundbreaking products, innovative services and a fulfilling business opportunity individually defined through flexibility and personal lifestyle choices.
And in this Pursuit of Betterment, the Company continues to build and grow its Youngevity Be The Change Foundation. 100% of the profits from Youngevity Be the Change Coffee, and other special products highlighted on the Foundation website finance Foundation operations.
About Youngevity International, Inc.
Youngevity International, Inc. (OTCQX: YGYI), is a leading omni-direct lifestyle company – offering a hybrid of the direct selling business model, that also offers e-commerce and the power of social selling. Assembling a virtual Main Street of products and services under one corporate entity, Youngevity offers products from the six top selling retail categories: health/nutrition, home/family, food/beverage (including coffee), spa/beauty, apparel/jewelry, as well as innovative services.
The Company was formed in the course of the summer 2011 merger of Youngevity Essential Life Sciences with Javalution® Coffee Company (now part of the company's food and beverage division). The resulting company became Youngevity International, Inc. in July 2013.
For investor information, please visit YGYI.com. Be sure to like us on Facebook and follow us on Twitter.