Youngevity Introduces Nutritional Water Bottle System
April 5, 2017
By Team Business For Home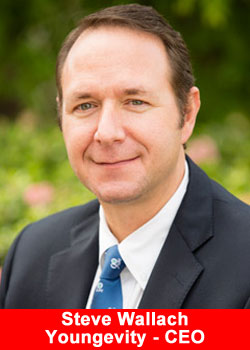 Youngevity International, Inc. ( OTCQX : YGYI ), a leading omni-direct lifestyle company, is launching its dynamic duo of entirely portable and mobile water bottles designed to help provide great tasting water and reduce chemicals found in tap water.
The Y-DR8 filter features (ACC) activated carbon cloth and is portable to fit today's On the go lifestyle — the innovative, new Y-DR8+ Bottle and filter system can not only save money on buying bottled water but also save consumer water bottles from ending up in our landfills.
The government has not set new drinking water standards since 2012. Enter the Youngevity Y-DR8+ Bottle Filter and Y-DR8+ Bottle. The filter features Flexzorb, a proprietary carbon cloth to help reduce odors, make tap water taste better, and reduce contaminates and chemicals — including chlorine, TTHM's, a known disinfecting by-product of chlorine and PPCP's.
The new bottle and filter represent yet another entirely new product category that Youngevity is entering to innovate and to expand market share, stated Steve Wallach, CEO and Co-Founder of Youngevity.
On a consistent basis, we are seeking to introduce new products that extend and transform the scope of our brands.
It is our goal for Youngevity to becoming a one-stop shopping destination for those interested bettering themselves through healthier lifestyle choices, stated Dave Briskie, President and CFO of Youngevity.
We are working very hard to extend the breadth of products that we offer, and to do so not with 'me-too' product line extensions but with innovative, quality new products that carve out new product niches for our Company and our brands.
This bottle system is intended to provide people with a revolutionary point-of-use water system for great tasting, water and enables consumers to customize tap water based upon their health and wellness needs.
It is a beverage technology that we expect will have broad consumer appeal,
stated Rick Anson, Vice President of Innovation and Emerging Markets of Youngevity.
About Youngevity International, Inc.
Youngevity International, Inc. ( OTCQX : YGYI ), is a leading omni-direct lifestyle company — offering a hybrid of the direct selling business model, that also offers e-commerce and the power of social selling.
Assembling a virtual Main Street of products and services under one corporate entity, Youngevity offers products from the six top selling retail categories: health/nutrition, home/family, food/beverage (including coffee), spa/beauty, apparel/jewelry, as well as innovative services.
The Company was formed in the course of the summer 2011 merger of Youngevity Essential Life Sciences with Javalution® Coffee Company (now part of the company's food and beverage division). The resulting company became Youngevity International, Inc. in July 2013. For investor information, please visit YGYI.com. Be sure to like us on Facebook and follow us on Twitter.