Youngevity Mexico Event Sets Attendance Record
April 11, 2017
By Team Business For Home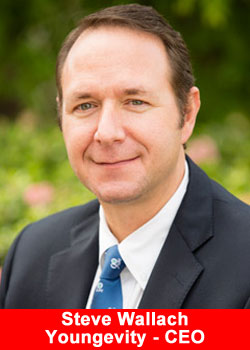 Youngevity International, Inc. (otcqx:YGYI), a leading omni-direct lifestyle company, today reported a standing-room only attendance record for its inaugural corporate event in Mexico, held at the Hilton Guadalajara Hotel on March 24-25.
Youngevity announced its new branding strategy for Mexico, hosted distributor trainings and executive briefings, and formally introduced the newly acquired RicoLife weight loss product line.
In recognition of the importance of Mexico to the Company's international portfolio, additional meetings were held across the country for distributors unable to travel to event in Guadalajara.
Guadalajara event activities commenced with a welcome from Ms. Susana Azócar, Youngevity Operations Director for Latin America. Noted speaker presentation included: YGY International Expansion by Dave Briskie, President and CFO of the Company; and Giving Back through the Be the Change Foundation by Sunshine Briskie, Be the Change Foundation Executive Director.
In addition, Sanjeev Javia, a member of the Youngevity Scientific & Athletic Advisory Boards, spoke about 90 for Life and the nutrients that the body requires to achieve optimum performance and well-being. Raul Luna and Alberto Arellano, RicoLife Founders, addressed the crowd about the recently announced RicoLife acquisition, RicoLife products and the weight loss potential.
Youngevity Founder and Guest of Honor, Dr. Joel Wallach discussed the research that led him to found Youngevity and his advice on nutrition facts everyone needs to know. Dr. Wallach also discussed his work conducted outside of Youngevity, which was highlighted in media interviews throughout Mexico, reaching approximately 8-10 million people based on viewership and listenership statistics provided by the media outlets. Media interviews were completed with Televisa, The Guadalajara Times, Radiorama de Occidente, and a number of others.
Dr. Wallach has published more than 70 scientific articles and he has authored 13 books. His decades of mineral research have earned him a nomination for the Nobel Prize in Health, as well as The Klaus Schwarz Medal in 2011 for his work on trace elements.
The main event hotel ballroom was lined with product booths so that attendees could experience all Youngevity products available in Mexico. In addition to the Youngevity core nutrition offerings, other product categories available in Mexico were represented, including: mineral makeup, the latest collection of Mialisia Jewelry, therapeutic-grade essential aromatherapy oils, triple-certified coffee, and a variety of all-natural spa and beauty products.
Following the event, Mr. Briskie stated, Naturally we had hoped this gathering would be well attended and new product acceptance and integration by our cherished Latino market distributors would carry through. To say we are pleased with the response would be an understatement. Both Steve Wallach and I are so excited by the adoption of our new and existing products, as a result of what took place in Gudalajara and at the offsite meetings and we continue to realize how valuable these types of events are to our company and to our people in the field.
Later in the Day on March 25, the Youngevity Be The Change Foundation launched its own presence in Mexico with a Community Project held at Ciudad de Los Niños Del Padre Cuellar A.C. Be The Change Foundation volunteers stuffed and distributed backpacks for the 57 children, with special, individually written notes of inspiration and hope. The children's response was priceless. Pictures of the event can be viewed here.
Youngevity was founded upon the pioneering principles of Dr. Joel Wallach; always looking forward to the betterment of society. Today Youngevity seeks to continue to meet this mission with groundbreaking products, innovative services and a fulfilling business opportunity individually defined through flexibility and personal lifestyle choices. And in this Pursuit of Betterment, the Company continues to build and grow its Youngevity Be the Change Foundation. 100% of the profits from Youngevity Be the Change Coffee, and other special products highlighted on the Foundation website, finance Foundation operations.
bout Youngevity International, Inc.
Youngevity International, Inc. (OTCQX: YGYI) is the only omni-direct lifestyle company offering a hybrid of the direct selling business model, that also offers e-commerce and the power of social selling. Assembling a virtual Main Street of products and services under one corporate entity, Youngevity offers proven products from the six top selling retail categories: health/nutrition, home/family, food/beverage (including coffee), spa/beauty, apparel/jewelry, as well as innovative services.
The Company was formed in the course of the summer 2011 merger of Youngevity Essential Life Sciences with Javalution Coffee Company (now part of the company's food and beverage division). The resulting company became Youngevity International, Inc. in July 2013. For investor information, please visit YGYI.com. For general information on products and services please visit us at youngevity.com. Be sure to like us on Facebook and follow us on Twitter.