LR Health & Beauty Celebrates New Aloe Production Site
May 3, 2017
By Nicole Dunkley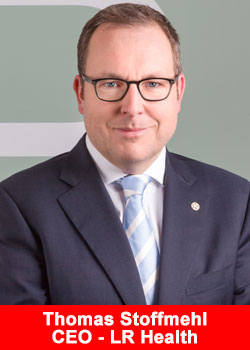 LR Health & Beauty, the Ahlen, Germany-based direct seller of cosmetics, fragrances and nutritional products, recently held a cornerstone ceremony to mark the construction of its new aloe production site in Ahlen.
After months of excavation and the laying of drainage pipes, the ceremony took place on the premises at Porschestrasse.
The new production building will be docked to the existing LR Logistics Centre. Company executives and representatives of the City of Ahlen were on hand to lay the cornerstone.
"I am very pleased that the construction works start now," said Dr. Thomas Stoffmehl, CEO of LR Health & Beauty. "The new production site is part of our sustainable growth strategy. In this way, we are reinforcing our claim 'Made in Germany' with the highest quality standard and take account of the increasing demand of our aloe vera products."
With an annual harvest of 12,000 tons of aloe vera leaves, LR Health & Beauty is among the world's largest manufacturers of aloe vera products today. The company exclusively uses the inside of the Aloe Vera Barbadensis Miller leaf from controlled cultivation in the highlands of Mexico.
The professional processing of the resource aloe vera is a decisive factor for the high quality of the finished products. Therefore, LR places top priority on a controlled manufacturing process. These include careful processing of the sensitive natural ingredients and stringent quality controls by SGS INSTITUT FRESENIUS.
LR's Aloe Vera product line is one of the company's core competencies, and includes skin care for women and men, gentle care for babies and mothers, body care and sun protection. All the products are dermatologically tested and are free of parabens and mineral oil.
It is expected that by the end of 2017 LR Aloe Vera Drinking Gels can be produced under one roof. Visitors can follow the production live. A 40-meter corridor will be built, running parallel to the production building, and will offer insights into the entire production process, from blending to bottling through to packaging.
LR Health & Beauty
Under the motto "More quality for your life", the LR Group with headquarters in Ahlen/Westphalia produces and markets various health and beauty products in around 28 countries. The range includes care and decorative cosmetics, dietary supplements and perfumes. In the fragrance segment, the company, which was in founded in 1985, has established exclusive cooperations with celebrities such as Guido Maria Kretschmer, Karolina Kurkova and Bruce Willis.
With more than 1,200 employees as well as thousands of registered sales partners and customers, LR is one of Europe's leading direct sales enterprises. Since 2014, LR products are also available at the company's customer online shop. LR's strong market position is based above all on a high-quality product range and an attractive bonus and training plan which is unsurpassed in the industry. LR also established the LR Global Kids Fund e. V. which provides efficient and unbureaucratic support for deprived children and their families in many different countries around the world in cooperation with local institutions.