Khanya Cakata Represents Total Life Changes' Exponential Growth In South Africa
June 13, 2017
By Nicole Dunkley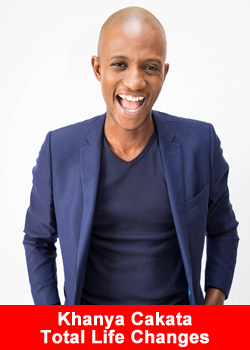 Though the Total Life Changes business model and product line originates in the United States, its success has quickly spread around the world thanks to the hard work of entrepreneurs like Khanya Cakata.
A native of Butterworth, South Africa, and current resident of Johannesburg, Khanya was among the first Independent Business Owners in his country to sign with TLC in November 2016. Within a few months, the TLC brand has shown astonishing growth, and thousands of South Africans have been rapidly ascending in the company rankings.
"I've known the man who would become my Sponsor, Matthew Harris, since we were children, and we'd always remained in touch through social media," says Khanya.
"I was in Thailand on holiday when he called me to see if I wanted in on the ground floor with TLC in South Africa. Obviously, you know my answer."
Khanya describes his first 48 hours with TLC as a "blur."  Though he contacted over 90 people, only three or four granted him home meetings, and a mere nine signed up with him. As anyone with multi-level marketing experience can tell you, handling 81 rejections is not fun, but Khanya recognized that to succeed he would have to turn that pain into motivation.
Khanya already had strong reasons for putting in the necessary work. He saw TLC as a means of making his family debt free, and to eventually build his mother the family home she deserved. More broadly, he had an ambitious dream of bringing financial freedom to 250,000 people in Africa by 2020.
Fortunately, Khanya had a little help from TLC's Iaso® tea, which provided him just the right amount of energy to push through the initial hurdles of building his network, and the long hours he works today running his TLC business full-time.
Just six months after signing up, Khanya can proudly claim a team of over 6,000, and his income has reached $18,000 per month. He's managed to pay off his mother's car, and even built her that house he'd dreamed about. Both of his parents have become TLC Directors in their own right.
"The company's winning mentality comes from the positivity of the people working there,
says Khanya. "TLC is the real deal. It empathizes with its IBOs, and you see real rewards for the work you put in."  To Khanya those words are what set TLC apart from other companies in the network marketing sector.
Khanya is currently a National Director with TLC and intends to reach the rank of Global Director by July 1, 2017. He anticipates becoming an Executive Ambassador by November 1, 2017. "With TLC, there are no limits to how far I can go."
About Total Life Changes
Total Life Changes offers a diverse product portfolio of health, wellness and beauty products. President and Tea Executive Officer Jack Fallon created TLC over 16 years ago with a single product: NutraBurst®.
Since that time, TLC has continued to develop the Iaso® brand of products to include a diverse and attractive product portfolio matched with a hybrid binary compensation plan that allows IBOs of TLC to be rewarded quickly for introducing new customers to our products and business opportunity. Find out why so many are saying, "It really is different over here."