Bode Pro Implement A New FTC Compliant Commission Plan
July 1, 2017
By Team Business For Home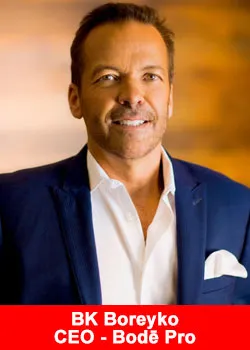 In recent years, the $32 billion domestic direct selling industry has been under fire by the media and regulatory agencies over what constitutes a legitimate business enterprise.
Established companies are now scrambling to remain compliant, as new guidelines are being created on the fly and passed-down by the government.  Meanwhile, the new start-up Bode Pro, founded by Top CEO BK Boreyko has just released a commission plan that silences the media and satisfies regulators, while attracting four major marketing channels.
A 2.0 update to its recent March launch, the Bode Pro Commission Program adopts a modern day design and is the 'first of its kind' to effectively address the four major marketing channels: retail, Internet, network and influencer marketing.
This 'plan for the future' incorporates the latest regulatory guidelines, while creating an environment in which independent influencers can thrive in marketing some of the finest and creative wellness products available anywhere in the world.
"The first 6 to 12 months of any start-up is really its prelaunch—the period when marketing strategies are refined and any tweaks to the business plan can be made to produce faster results,"
says Bode Pro CEO, BK Boreyko.
"We've already assembled a well-seasoned and extremely talented group of international field leaders instrumental in crafting our business plan.  Building a compliant, yet effective commission plan for an eventual worldwide platform is no easy task, but we feel we've done it and we're excited to roll it out July 1st."
During a recent Facebook live, Boreyko talks about this modernization of their commission program  bit.ly/2tyHSV9
Bode Pro's international expansion plans includes Hong Kong along with NFR programs in Taiwan and Japan.
"The global marketplace is evolving rapidly, but network marketing companies have not evolved with it,"
says Jason Domingo, Bode Pro's Master Influencer.  "Our industry has remained stuck using decades-old strategies.  That's where Bode Pro is different.  We not only offer modern day products to address modern day health challenges, we offer a modern day opportunity, too."
September will be a busy month for this young start-up, as they release their new mitochondria support product, Bode Pro TEN as a follow up to their delicious nootropic Happy and super antioxidant Strong products.
"I believe companies who adopt as their battle cry 'we're going to be the next billion-dollar company!' are off track,"
says Domingo.
"Money should never be the guiding principle in a direct sales company.  Providing value to the marketplace should be the driving force. In Bode Pro, revenue will only serve as a metric as to how much value we've provided our customers and business partners."
With a modernized commission plan, unique wellness products, strong field leadership and strategic international expansion, look for a strong finish to Bode Pro's first year.
About Bode Pro
Bode Pro takes a fresh approach to 'direct to consumer' marketing. This start up deploys technology, fulfillment infrastructure along with a commission plan that allows the entrepreneurial a unique ability to tap into 4 major marketing segments – Retail Marketing, Influencer Marketing, Internet Marketing and Network Marketing.
For more information on product offerings, visit bodepro.com