Vern Lapuz ARIIX Vision Award Winner
July 21, 2017
By Team Business For Home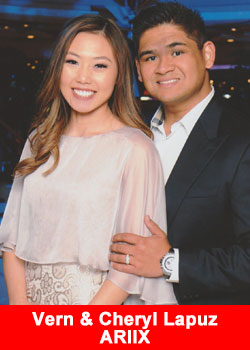 Vern Lapuz from California, USA is ARIIX Vision Award Winner 2016.
ARIIX is a Triple A classified opportunity by Business For Home.
Each year, in each country in which ARIIX operates, a representative distinguishes him or herself in a way that truly demonstrates the growth and vision that is possible when Unleashing the Human potential for Good.
We are excited to share the story of ARIIX Vision Award winner Vern Lapuz, along with his strategies for reaching those big dreams.
Share with us your story – and how you found your way to the world of network marketing.
When I first discovered network marketing, I was a part-time college student and working at a Wal-Mart automotive department changing oil and rotating tires. Much like many of us, I attended a presentation and saw the potential for what it could do for my future.
I saw a lot of my peers and the people around me graduating from college, then struggling to find jobs and pay off their loans. I knew I needed a backup plan and figured that network marketing was the perfect fit.
Before I knew it, my Plan B became my Plan A! I spent seven years with another MLM before I was introduced to ARIIX. As soon as I saw how ARIIX was structured, and its unique offerings, I made the switch.
What are some of your strategies for success?
First, I have to say that network marketing is a marathon, not a sprint. If something isn't working in the first month or two, don't give up, it takes time. There is a process to creating an income. First, set short, attainable goals. Big goals are good, but you need to have small, achievable goals that won't overwhelm you.
What I've done is start with the ultimate goal, my big "why," then map out the steps in smaller goals that will get me there. Daily, weekly, monthly, quarterly… you've got to create a road map to get yourself to that ultimate goal.
That's where I see people struggle. If you just look at your big goal, it can feel impossible and you'll feel like giving up. It's the happiness and sense of satisfaction from achieving the little goals, and the small wins, that will add up to big progress and a big year.
What made you decide to build your business with ARIIX?
ARIIX is a company that offers so many unique and attractive benefits under one big umbrella that it truly stands out in this industry. Their pay structure is the number one reason I chose to work with them. Their products are exceptional and offer something for everyone, allowing for greater income possibilities.
I love the management team, every one of them has amazing character and values, and their combined hundreds of years of experience is amazing.
Deanna Latson has changed my life, not just through diet, but by helping me change my lifestyle. I'm based in California and Arizona, not too close to the headquarters, yet I often see Mark Wilson, Fred Cooper and other members of the management team out working in the field, just like me. If they happen to be nearby, they call. They are reachable, and that's so rare.
In fact I've never seen that happen in any other industry. Bottom line, I trust them and that's a big deal.
ABOUT ARIIX
ARIIX is an international opportunity company that creates efficacious, toxin-free products developed through collaboration with world-renowned experts and marketed through independent representatives.
The ARIIX opportunity and brands are available in Australia, Canada, Greater China including Hong Kong SAR and Taiwan SAR, Japan, Kazakhstan, Mexico, the Netherlands, UK, Belgium, Russia, Singapore, South Korea and the United States. For more information, please visit ariix.com