Youngevity Completes Acquisition Of Sorvana
July 11, 2017
By Team Business For Home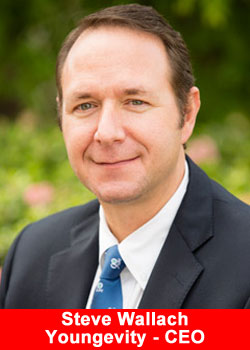 Youngevity International, Inc. (NASDAQ: YGYI), a leading omni-direct lifestyle company, today announced it has closed the acquisition of the assets of Sorvana International.
Youngevity originally announced entering into a definitive agreement with Sorvana on June 19 of this year.
Sorvana International was formed in November of 2016 through the unification of two natural Wellness companies, FreeLife and L'dara.
FreeLife has been in business for 22 years providing natural wellness products predominantly in the United States, Canada, Australia, and Philippines and L'dara, established in 2013, is known for its award winning patented skin care products.
Steve Wallach, Chairman and CEO of Youngevity stated,
"We are very proud of having closed on the acquisition of Sorvana International. Sorvana embodies so many of the attributes we look for in an acquisition, ranging from the level of quality products, the amount of distributors and customers, and the geographic footprint the company currently has in the marketplace.
We have been seeking to acquire an established company with international distribution and we are very fortunate to have find that opportunity in Sorvana."
"Closing on this transaction is a great start to the second half of this very exciting year for Youngevity," said Dave Briskie, President and CFO of Youngevity International.
"The FreeLife and L'dara Brands along with their accompanying distribution represents both our largest top line revenue acquisition and the greatest data base of customers and distributors we have ever added to Youngevity.
Their 22 year history as a successful direct selling company was a very compelling factor in our decision to pursue these brands as a desirable addition to Youngevity. We believe our two established cultures will create many benefits and cross marketing opportunities for both Youngevity and Sorvana distributors."
"We couldn't be happier with this merger," said Ray Faltinsky, FreeLife and Sorvana CEO and Co-Founder.
"Youngevity is a perfect match for our commitment to science based, natural wellness products that transform lives. 
It's part of their DNA, as it is ours. And they have a corporate team that has made this merger seamless. We have gotten off to an incredible start and our field is excited!"
"The response from our Sorvana Wellness Partners has been excellent," said Kevin Fournier, FreeLife and Sorvana Co-Founder.
"They now have thousands of new products to share, new international markets to expand their business and the support of a talented and dedicated Youngevity corporate team to help them positively impact the lives of so many people in the future. We believe it is the perfect match of company culture and priorities. Our merger with Youngevity just feels so right to so many!"
About Youngevity International, Inc.
Youngevity International, Inc. (NASDAQ: YGYI), is a leading omni-direct lifestyle company — offering a hybrid of the direct selling business model, that also offers e-commerce and the power of social selling. Assembling a virtual Main Street of products and services under one corporate entity, Youngevity offers products from the six top selling retail categories: health/nutrition, home/family, food/beverage (including coffee), spa/beauty, apparel/jewelry, as well as innovative services.
The Company was formed in the course of the summer 2011 merger of Youngevity Essential Life Sciences with Javalution® Coffee Company (now part of the company's food and beverage division).
The resulting company became Youngevity International, Inc. in July 2013. For investor information, please visit ygyi.com. For general information on products and services, please visit us at youngevity.com. Be sure to like us on Facebook and follow us on Twitter.