Youngevity Debuts Newest Addition to ProLine – Purmeric
July 3, 2017
By Nicole Dunkley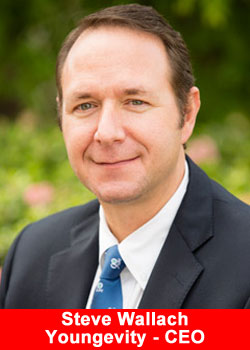 Youngevity International, Inc. (NASDAQ: YGYI), a leading omni-direct lifestyle company, is debuting Pürmeric™, the Company's latest addition to its ProLine product collection . Pürmeric contains 95% curcuminoids from certified organic tumeric root – delivering what is believed to be a greater anti-oxidant capacity than most tumeric products available today.
Used for centuries in Ayurvedic and Chinese medicine, Tumeric has been known to be an anti-inflammatory agent. According to Memorial Sloan Kettering Cancer Center, there are ongoing clinical trials to substantiate Eastern Medicine use of Tumeric and laboratory and animal studies do suggest that Tumeric can reduce inflammation in animals.
Anti-oxidants have become a recognized element of good nutrition, helping the body to combat free radicals by safely neutralizing them and preventing and reducing the damage they can cause to cells.
"We are proud to offer a powerful, organically sourced product that delivers the reported anti-oxidant benefits of curcumin," stated Steve Wallach, CEO and Co-Founder of Youngevity. "Pürmeric is our newest addition to the Youngevity Performance product line – which addresses exercise performance-based nutritional needs that supports athletes and weekend warriors alike with nutritional benefits tailored to their pursuit of fitness."
"Pürmeric delivers yet another example of our commitment to offering quality and science when we create a nutritional product or supplement," stated Dave Briskie, President and CFO of Youngevity. "We are not in the business of offering 'me-too' products. We are in the business of offering robust product entries that can compete strongly across the supplement spectrum."
Youngevity was founded upon the pioneering principles of Dr. Joel Wallach; always looking forward to the betterment of society. Today Youngevity seeks to continue to meet this mission with groundbreaking products, innovative services and a fulfilling business opportunity individually defined through flexibility and personal lifestyle choices. And in this Pursuit of Betterment, the Company continues to build and grow its Youngevity Be The Change Foundation. 100% of the profits from Youngevity Be the Change Coffee, and other special products highlighted on the Foundation website finance Foundation operations.
About Youngevity International, Inc.
Youngevity International, Inc., is a leading omni-direct lifestyle company – offering a hybrid of the direct selling business model, that also offers e-commerce and the power of social selling. Assembling a virtual Main Street of products and services under one corporate entity, Youngevity offers products from the six top selling retail categories: health/nutrition, home/family, food/beverage (including coffee), spa/beauty, apparel/jewelry, as well as innovative services. The Company was formed in the course of the summer 2011 merger of Youngevity Essential Life Sciences with Javalution® Coffee Company (now part of the company's food and beverage division). The resulting company became Youngevity International, Inc. in July 2013.