How Barry And Jennifer Hughes Turned Their Life Around With Network Marketing
August 31, 2017
By Team Business For Home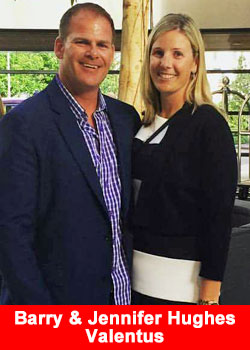 Barry Hughes introduction to Valentus couldn't have come at a better time. Facing foreclosure on his home and with over $75,000 in credit card debt, things looked bleak.
All that changed the day Barry met Ted Wilson. Barry's and Ted's sons attended hockey goalie camps together and they immediately hit it off.
Barry was involved in a network marketing company when Ted first talked to him about Valentus. He was immediately drawn to Valentus because the company was still in its infancy and he would have an opportunity to be a part of creating the fabric and culture of the company.  Barry was equally impressed with Valentus CEO Dave Jordan.
"I could see his integrity, passion and heart from the first introduction,"
Barry says. "I knew I had found my future with Valentus." With support from company leadership and belief in the products, Barry went to work.
He began by sharing the vision of building a global-based business model that was reachable for anyone. Barry committed himself to building a strong team and did so
through leadership, training, team calls, teaching processes of duplication and empowering people to realize their true potential. In short, Barry quickly understood the key to success was in ensuring the success of others within his structure.  In turn, his success would be taken care of as a result.
In just over one year, Barry's income level allowed him to take control of his finances and his life.
"I went from lying in bed at night, wondering how I was going to pay my bills to a life of abundance, seemingly overnight."
Barry's proudest achievement has been the number of people he has helped reach similar success. He has found that the best way to truly help people in network marketing is to listen to their story, their concerns, their future dreams and their ambitions.
After connecting with prospects, and truly understanding their needs, he explains the health and wealth solutions Valentus can offer, tailor-made to suit the new independent business representative.
Barry's Valentus adventure has expanded his horizons through travel. After helping build a large team in the United Kingdom, Barry recently traveled to the area leading the team through its first successful European Convention.
Barry's wife Jennifer has been a constant support since day one, even when things were not easy as he was getting his business up and running. The hard work is now being rewarded in the form of stress-free quality time with their two sons, Dylan (21) and Liam (17). Whether it's spending time on the family boat, skiing or playing hockey, Barry and Jennifer get to put family first.
Another example of how Barry's life has changed within the Valentus model was when his father passed away suddenly last summer. He was able to fly out and be with family immediately. "I didn't have to ask my boss for time off or worry about how much the plane ticket was going to cost," he says. "I simply was able to give all of myself, in support of family, during this difficult time."
The flexibility of network marketing can't be beat. "I have the luxury of being able to vacation where I want, with who I want and work where I want on my own schedule,"
he says.
"I don't have to miss any of my kids' events and I get to be present and supportive of my wife versus passing each other through the door as each goes to work." Barry adds,
"I am filled with gratitude each day because my life has been changed in a way that I can't even describe. Most important, I get to help other people dream again, too."