Market America Expects 25,000 Attendees At USA Convention
August 11, 2017
By Team Business For Home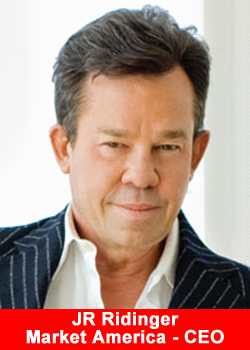 "Converting Spending Into Earning" (a/k/a The Shopping Annuity) is the predominant message that Market America|SHOP.COM will deliver to approximately 25,000 eager entrepreneurs at its 2017 International Convention & 25th Anniversary Celebration.
This year's event, to be held August 10th through 13th at the Greensboro Coliseum in Greensboro, NC, will showcase the latest developments in Market America|SHOP.COM's high-tech, high-touch approach to retailing and ecommerce.  The event will also highlight the company's meteoric rise over the past 25 years from its austere beginnings in its home town of Greensboro.
I don't ever recall being more excited about one of our events than I am for our International Convention & 25th Anniversary Celebration this week in Greensboro,
said Market America|SHOP.COM Chairman and CEO JR Ridinger.
"People everywhere are succeeding more and more rapidly through the Market America UnFranchise business. 
The pace continues to quicken as entrepreneurs enthusiastically adopt our "Shopping Annuity" concept which includes analyzing consumer spending habits with our online tools, using SHOP.COM's comparison shopping engine to find the best prices and earning up to 50% Cashback on qualifying purchases," he said.  "This event will be our most historic event ever as we disclose new technologies, new products, new methodologies and new opportunities that will allow the world to Convert Their Spending Into Earning."
During Ridinger's multiple presentations at the event, he will convey the latest enhancements to the Shopping Annuity program and how its rapid adoption in the marketplace is improving thousands of lives. The event will also feature the Market America|SHOP.COM executive team, successful entrepreneurs from at least 10 countries and celebrity guests, including Fat Joe, La La Anthony and Scottie Pippen.
Previous events have been attended by superstars Jamie Foxx, Jennifer Lopez, Alicia Keys, Serena Williams, Alejandro Sanz, Khloe Kardashian, Gloria and Emilio Estefan, Tony Romo, Swizz Beatz, Paulina Rubio and Marc Anthony, among many others.  Additional surprise celebrity appearances are expected this week.
Grammy-nominated rap artist and entrepreneur Joseph "Fat Joe" Cartagena, the company's President of Urban and Latino Development, will be on hand to convey the excitement and explosive growth within that market sector. He will discuss Market America|SHOP.COM's core value of living a life that is "All the Way Up."
Kevin Hinterberger, President & CEO of Better Business Bureau serving Central North Carolina, will be on hand to welcome attendees to this year's event and acknowledge the company's long and positive association with the BBB over the years.  Market America|SHOP.COM has an A+ rating and is also a prior Torch Award Winner; company President & COO Marc Ashley recently served as Chairman of the Board of the BBB and is a long time Board member.
The award-winning Motives by Loren Ridinger cosmetics line created by Market America|SHOP.COM Senior Executive Vice President Loren Ridinger is anxiously awaiting the launch of its new Fall/Winter 2017 campaign titled "Beyond Beauty." This collection goes beyond basic with a palette dominated by vibrant earth tones in hues of red and orange, grounded by shimmering metallic. Alongside the launch of the campaign, Motives will also be unveiling new products that every Motives lover will be obsessed with, including a new foundation line, new powders and a truly iconic color palette. These up-and-coming products are available for purchase exclusively at SHOP.COM and motivescosmetics.com.  Loren's ongoing collaboration with actress and entrepreneur La La Anthony in the creation of Motives for La La will also be featured with La La on hand to discuss "How To Engage Your Motives Customer."
Loren will open the four day event with a powerful address followed by additional presentations wherein she will use her vast experience as one of today's most influential entrepreneurs to help attendees define their 'why' and develop the passion necessary to reach their goals, succeed and live The American Dream.
"Through social media, the Motives team has been able to combine our passion for and expertise in beauty to best serve our customers' needs.  The growth and success of Motives has been truly gratifying,"
said Ridinger.
The company will announce several enhancements to SHOP.COM including the newest and most cutting edge version of its digital deals assistant — SHOP Buddy, additional participating merchants in its SHOP Local program, as well as some great new user-friendly enhancements to make the user experience even better.
"Our suite of services is focused on creating the best user experience possible through an easy-to-use interface, fast checkouts and blazing speed, among other things," said Steve Ashley, President & COO of SHOP.COM. "Through innovation, our suite of products — which include web, mobile and apps — and emerging technologies we are positioned for explosive growth in the marketplace."
DNA Miracles™ and DNA Miracles Natural, created by Amber Ridinger-McLaughlin and Duane McLaughlin, provide the highest quality body and wellness products designed for babies, children and expectant mothers.
DNA will unveil several new additions to the DNA Miracles Line. Recently launched products include: DNA Miracles Natural Kids Shampoo + Body Wash, DNA Miracles Natural Kids Conditioner, DNA Miracles Natural Kids Bubble Bath, DNA Miracles Natural Kids Detangler and DNA Miracles Natural Kids Lotion. The company has partnered with leading health professionals and scientists who follow the highest standards in ingredient selection to create the most effective skin, hair and health solutions.
Furthermore, NBA Hall-of-Famer Scottie Pippen will be on hand to spotlight the impressive results and success of his Market America-exclusive product, Prime™ Joint Support by Isotonix®.
Additional exciting new announcements will headline this year's event, including enhancements to SHOP.COM's shopping website that will be introduced and discussed in detail by Market America|SHOP.COM President & COO Marc Ashley.
"Even after 25 years of continuous growth, I'm still amazed at how the company continues to shine brighter,"
said Ashley.  "We are stronger than we have ever been and continue to fill voids in the marketplace," he said.  "It's always exciting to be here in Greensboro, which is where it all started for the company over 25 years ago.  I look forward to seeing the Greensboro Coliseum full of talented and dedicated entrepreneurs as we continue to change the way people shop by converting their spending into earning."
ABOUT MARKET AMERICA, INC. & SHOP.COM
Market America, Inc. is a product brokerage and Internet marketing company that specializes in One-to-One Marketing. Its mission is to provide a robust business system for entrepreneurs, while providing consumers a better way to shop.  Headquartered in Greensboro, NC, the company was founded in 1992 by Chairman and CEO JR Ridinger and has generated $7.6 billion in accumulated sales.
Market America employs nearly 900 people globally with operations in the United States, Canada, Taiwan, Hong Kong, Australia, United Kingdom, Mexico, Spain and Singapore (Malaysia is opening in September 2017).  Through the company's shopping website, SHOP.COM, consumers have access to over 40 million products, including Market America exclusive brands and thousands of top retail brands.
Internet Retailer has ranked SHOP.COM #66 in the 2017 Internet Retailer Top 500 Guide and the 18th fastest growing Internet Mobile Retailer.  By combining Market America's entrepreneurial business model with SHOP.COM's powerful comparative shopping engine, Cashback program, Hot Deals, ShopBuddy™, social shopping integration and countless other features, the company has become the ultimate online shopping destination.
For more information, please visit www.marketamerica.com or www.SHOP.COM