Top Leaders Jeff And Ruth Elliott Join Bode Pro
August 19, 2017
By Team Business For Home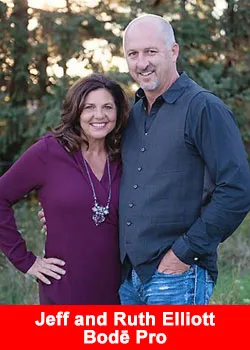 Top Leaders Jeff and Ruth Elliott have built an organization of over 200,000 representatives with estimated earnings exceeding $8 million since 2006 and combined sales revenue over $200 million.
The Elliotts reside in Normal, Illinois and are living what many would consider "the American Dream."
Bode Pro was founded by BK Boreyko along with his two sisters Karen and Lauren in January, 2017 and launched March 7, 2017.
Bode Pro takes a fresh approach to 'direct to consumer' influencer marketing. This start up tech company deploys technology, fulfillment infrastructure along with an app that contains a suite of features that empowers the micro influencer social media market with the ability to turn their social media into a social marketplace.
The first two product offerings feature 'on the go' solutions for focus and mental clarity with their hugely popular Happy product, and antioxidant & immune support* with Strong. All products come with Bode Pro's Happiness Guarantee.
The Bode Pro Commission Program adopts a modern day design and is the 'first of its kind' to effectively address the four major marketing channels: retail, Internet, network and influencer marketing.
This 'plan for the future' incorporates the latest regulatory guidelines, while creating an environment in which independent influencers can thrive in marketing some of the finest and creative wellness products available anywhere in the world.
"We've already assembled a well-seasoned and extremely talented group of international field leaders instrumental in crafting our business plan. 

Building a compliant, yet effective commission plan for an eventual worldwide platform is no easy task, but we feel we've done it and we're excited to roll it out July 1st."
says BK Boreyko
"The global marketplace is evolving rapidly, but network marketing companies have not evolved with it,"
says Jason Domingo, Bode Pro's Master Influencer.
"Our industry has remained stuck using decades-old strategies.  That's where Bode Pro is different.  We not only offer modern day products to address modern day health challenges, we offer a modern day opportunity, too."
With a modernized commission plan, unique wellness products, strong field leadership and strategic international expansion, look for a strong finish to Bode Pro's first year.
About Bode Pro
Bode Pro takes a fresh approach to 'direct to consumer' marketing. This start up deploys technology, fulfillment infrastructure along with a commission plan that allows the entrepreneurial a unique ability to tap into 4 major marketing segments – Retail Marketing, Influencer Marketing, Internet Marketing and Network Marketing.
For more information on product offerings, visit bodepro.com