Total Life Changes Introduces Iaso Nitro Supplement For Peak Health
August 9, 2017
By Nicole Dunkley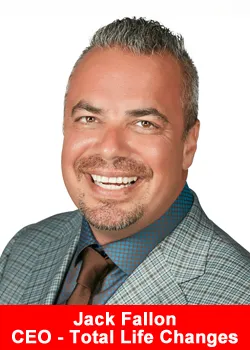 Total Life Changes (TLC) is pleased to announce the company's most-recent addition to its health and wellness product lineup – Iaso® Nitro. The innovative supplement has been clinically proven to support and improve a number of vital systems in the human body, including the central nervous system, immune system, respiratory system, cardiovascular system, and sexual health. This is due to the supplement's ability to increase nitric oxide synthesis within the body, which leads to muscle development and enhanced overall health.
Jack Fallon, TLC Founder and CEO, conveyed his excitement regarding the release, "This is a product that I am very proud of. It's an incredible formula, backed by a tremendous amount of research. It's GMP Certified and made in the USA. It's very important to offer high-quality products in this industry; products that offer efficacy and deliver results. That is the formula for growing any successful business."
The supplement was introduced to TLC's Independent Business Owners at the company's International Expansion Conference, which was held in Atlanta last month. Attendees learned about Iaso® Nitro's specs and benefits, and the product's formula – a proprietary blend of arginine alpha ketoglutarate (AAKG), without any binders, fillers, preservatives, artificial flavors or colors, sugar, and gluten.
Benjamin Ipolt, TLC Sales Director of the Mexico Division, spoke about how important the new release is, "Every year, 7 million people are dying because of heart diseases. With Iaso® Nitro, we can help to prevent our own family members from this disease. Moreover, it fits perfectly into our TLC product philosophy because it has the newest technology and highest production standards, which leads to the best results for our families and our customers. This product will change the lives and businesses of thousands of families. In a few months, Iaso® Nitro will be one of the top sellers at TLC."
TLC recommends users take two capsules per day for maximum results. Ipolt said, "For optimum protection, I recommend the Nitro-Kit with Iaso® Tea, NutraBurst, and Nitro." Each bottle of Iaso® Nitro comes with 60 capsules, enough for a one-month supply.

Here's what Iaso® Nitro users had to say:
"Two weeks ago, I started taking Iaso® Nitro. I am hypertensive, and I was handling a blood pressure of 130/90. After taking the Nitro, my pressure is 120/80. Additionally, I am swimming two times a week. I regularly swim between 1.2 and 1.3 km. The last time, I could swim 1.5 km because with the Iaso® Nitro I feel more energy."
"I have been taking Iaso® Nitro for one week now, and I am feeling more energy, but at the same time, my mood has improved a lot, because I am more relaxed and calm. I suffer from poor blood circulation in my legs – they especially hurt in the afternoon. Since I started taking Nitro, that has diminished. I am going to the gym, and although I have a routine of two hours, I do not feel tired afterwards. What a great product."
"I have been using Iaso® Nitro for four days, and I have become more active. I regularly slept for a while in the afternoon, and since taking Nitro, I have stopped doing it. I had blood circulation problems in my legs, and they felt heavy, but that is almost gone.
"I take Iaso® Nitro before going to the gym and I have seen that I can lift more weight and recover faster, I have more energy, more muscle tone, and my sleep is more restful."
For more information about Iaso® Nitro, or any of the TLC products, contact customer support at (586) 630-5791 or [email protected].

About Total Life Changes
Total Life Changes is an established health and wellness brand that focuses on high-quality, made in the USA products that can be trusted for efficacy and safety. TLC is represented throughout the world by a network of passionate Independent Business Owners. Find out why so many are saying, "It really is different over here."