Mary Kay Expands Operations In Latin America With Offices In Peru
September 19, 2017
By Team Business For Home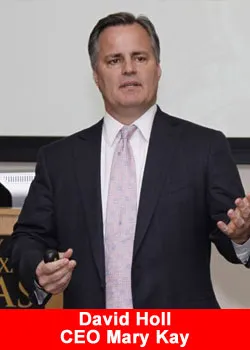 For an iconic cosmetics company with a mission to enrich women's lives, nothing is more exciting than to deliver beauty and opportunity to Peruvian women.
The multibillion-dollar beauty company officially opened its doors on September 1 and celebrated with a ribbon-cutting ceremony on September 15 in Lima. With a 54-year history, and operations in nearly 40 countries, this expansion strengthens Mary Kay's already solid foundation in Latin America.
Mary Kay President & CEO David Holl cut the ribbon with Mary Kay executives to officially open the company's newest market, Peru.
The globally-recognized company, with millions of Independent Beauty Consultants around the world, made an initial investment of $9 million USD in the Peruvian subsidiary.
It is based in Lima, covering operations for the entire country. The company enters its newest market, following its recent and successful launch in neighboring Colombia in 2015.
"We are proud to further expand our operations in Latin America with the opening of Mary Kay Peru,"
says David Holl, President and Chief Executive Officer for Mary Kay Inc.
"As the demand for high quality products increases and the entrepreneurial spirit strengthens with the country's economic growth, we anticipate a successful launch in Peru."
The concept of direct selling is more attractive than ever, and has been growing in Peru for the past 40 years. In 2016, World Bank ranked Peru 50th (out of 189 countries) for ease of doing business.
Direct foreign investment in the country totaled $7.7 billion USD in 2015.
About Mary Kay
At Mary Kay, success lies in our dedication to irresistible products, a rewarding opportunity and positive community impact.  For 54 years, Mary Kay has inspired women to achieve their entrepreneurial goals in nearly 40 countries.
As a multibillion-dollar company, we offer the latest in cutting-edge skin care, bold color cosmetics and fragrances. Discover more reasons to love Mary Kay at www.marykay.com.