ASEA Opens New International Headquarters
October 29, 2017
By Nicole Dunkley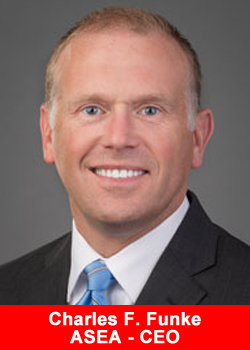 ASEA, a Utah-based company that manufactures and markets top quality cellular health products in more than 30 international markets, dedicated its newly completed global headquarters in Pleasant Grove, Utah on Monday, October 16, 2017.
CEO Charles F. Funke said the beautiful, 50,000-square-foot state-of-the-art facility is reflective of the success of the seven-year-old direct sales leader and positions the company for its next phase of growth and market expansion.
ASEA, founded by a group of executives led by Verdis Norton and his son, Tyler, is the first and only company to replicate molecules native to the body—known as redox signaling molecules— in a sustainable form outside the body. These molecules support cellular healing and replenishment—the very foundation of the body's health.
Currently, redox signaling technology is available in two, first-to-market product lines:  ASEA® Redox, the company's flagship liquid supplement, and RENU Advanced, a high quality skincare line that provides all the benefits of redox signaling technology together with exclusive redox-friendly, anti-aging blends.
President Jarom Webb said that the efficacy of the company's ground-breaking products is evidenced by the company's impressive growth. Less than 10 years after its founding, ASEA has expanded into more than 30 international markets and boasts more than 65,000 active distributors across the globe.
Its corporate staff has grown from just a handful to 170 employees worldwide. Webb noted that the company's next phase of strategic growth will focus on Asia. The company already has a presence in Hong Kong and Singapore, and recently announced plans to expand into Taiwan, Thailand and the Philippines.
"Our vision is to become a global leader in cellular health," said Webb, "and this building, along with our 33,000 square-foot production facility also located in Pleasant Grove, represents the next step in realizing this vision." The production facility, completed in 2013, is FDA registered, NSF Certified and GMP compliant and has barely begun to scratch its capacity, said Webb.
Funke said the company's move from Salt Lake City to Pleasant Grove close to its production facility will help create a synergy that will enable the company to run more efficiently and support its planned growth. He said the company currently services about 14 languages, with more to come, and Utah County is known as a prime place for finding employees who speak multiple languages. It is also known as one of the premier locations in the entire country for top-tier talent in direct selling.
Board Chairman and Founder Tyler Norton noted that his father, Verdis, was one of the first businessmen to recognize the significance of the science behind redox signaling. "Once my father realized what this product was capable of doing, he quickly visualized taking this product to people all around the world."  Referring to the new headquarters, Norton said, "My father's vision of what ASEA could be was this and even bigger. Our products work and are changing lives around the world."
For more information about ASEA products or the business opportunity connected with the company, visit www.aseaglobal.com.
About ASEA

Redox signaling molecules, vital to sustaining life, are naturally occurring and are created to support crucial immune system functioning and cellular healing. ASEA is the first and only company to replicate redox signaling molecules in a sustainable form outside of the body and include them in first-to-market products that help support and replenish cellular healing and replenishment.
Based in Utah, ASEA LLC is privately held, and its proprietary products and business opportunity are marketed to consumers via a global network of independent distributors. ASEA is a recognized category creator as the first company to market its patented redox signaling molecule technology in consumable and topical products to customers worldwide.