Carl Amery – British Sergeant Major Quit Army For Full Time Network Marketing
October 2, 2017
By Team Business For Home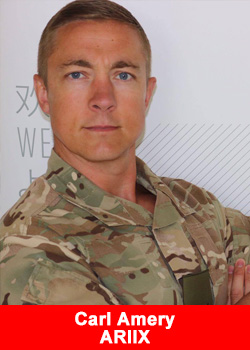 Carl Amery from the United Kingdom and a Recommended Distributor, stepped down from his army career, for full-time network marketing.
He is known as the MLM mentor and has developed an Generic MLM app that acts as your personal Network Marketing assistant that you carry with you everywhere on your smartphone or tablet. (Both for Android as iOS)
It gives you immediate quick access to proven scripts to some of the most common issues people face every day whilst running their Network Marketing business.
This is what he had to say about his bold step:
"I joined the British Army in 1999 at the age of 16 with the ultimate goal of going all the way to the top serving a full 22 years career. By the age of 31 I had promoted to Sergeant Major WO2 (average age of this rank 38), served in many worldwide locations and was moving through the ranks very swiftly.
My path was pretty much mapped out for the next 15 years in 2015 where I was expected to reach the Rank of Captain by 2019 and extend my service until the age of 55.
Life was good, and things were going fairly well. We were stable and very secure.
However, in May 2014 I was introduced to Network Marketing. My path was about to drastically change and I didn't even know it. I had no experience or knowledge of the industry but once I had seen what people were doing and the lives they were living, my interest peaked.
I had never even heard of Network Marketing and didn't even have a Facebook account.
I joined my first company in June 2014 and spent the first year learning the skills and gaining valuable experience. I quickly found that it wasn't easy and that personal development was crucial to succeed in this industry. I started to become very obsessed or another word people use is committed.
I was literally applying my Military training to the MLM world. Discipline, hard work and overcoming any problems to get a result.
After 18 months, I had learnt so much and had totally immersed myself in learning the craft that I had completely transformed as a person. I was starting to outgrow my Military peers and knew deep down that my focus was shifting more and more each day to Network Marketing. I couldn't help it. It was like a blindfold was literally taken off after all these years.
As time went by and I continued to develop, I started to see things that didn't sit right with me, not only in the Military but also my then current company. As a person if I'm committed to something I MUST know that my back is covered and that my interests are genuinely looked after.
There came a stage where I was no longer feeling the passion and the company moved the goal posts without warning. After careful consideration as I knew this was a sign of things to come, I decided to move companies and take all my newly acquired knowledge with me to start again from zero.
October 2015 I was introduced to ARIIX, – a Triple A classified opportunity by Business For Home.
There were many things missing in the Military and also my first company that I finally found with Ariix. There are many principles and morals that I live and will die by and these were quickly recognisable in Ariix. Loyalty, Integrity, Quality, Respect & High Standards. Once I had seen these qualities I knew it was time to go all in and I led with my heart.
Once settled into the company I quickly became the second highest paid representative in the U.K. within my first year and have since built a team of almost 2,000 reps worldwide in 18 months.
(Bare in mind, this was all achieved part time still working a full-time job in the Military). I was starting to experience the life I had always dreamed of and knew that this is where I belonged. A young boy who grew up on a council estate in one of the roughest areas in Cardiff, Wales with no real qualifications, no college experience or university was starting to truly believe that any life you want is possible if you commit and have the right vehicle to take you there. Life was no longer good, it was becoming great.
So in September 2016, again some things took place within the Military that didn't sit right with me. I made the ultimate decision to hand in my notice in to the Military leaving 4 years early, sacrificing my residual pension, my 6-figure lump sum pay-out at the 22 year point, my house and every ounce of security we had as a family and commit to ARIIX full time.
People said I was crazy and so did I for a while but I knew in my heart that it was the right thing to do. Having had the opportunity to spend time with the Founders of the Company over Christmas 2016, this reinforced my decision completely and was one of the main reasons for the trip to Utah. To see and spend quality time with the drivers of this incredible ship. After we were treated with such respect and kindness, invited into their homes and shown the sheer ambition of the company for the future, my decision to commit was final.
The boats were well and truly burnt and there was no turning back. I wouldn't have given up all of the above for anything else. This is how much I believe and trust the company. ARIIX is now my home.
We have forged solid lifelong friendships, relationships and have even developed my family on our journey.
The team is going from strength to strength attracting quality leaders and people from across the globe because of the disruptive environment we are creating and we are literally only just starting.
From August this year, I will be a full-time representative with Ariix. The vision and aspiration I have along with the team is to continue to grow at the rate we are, spreading the word worldwide. I aim to create an Army of successful entrepreneurs who are not only rich with finance, but also rich in Love, friendships and life changing experiences.