LuLaRoe Hit By A Class Action Law Suit Accused To Be A Pyramid Scheme
October 23, 2017
By Team Business For Home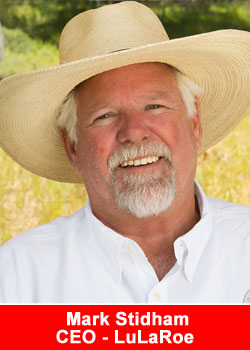 According to an article in Business Insider:
Direct sales clothing brand LuLaRoe is no stranger to controversy. From torn leggings to salespeople who claim they were encouraged to incur massive debt, the company has struggled to maintain its emphasis on community and self-empowerment during a period of massive growth.
LuLaRoe is now facing a class-action lawsuit that alleges it misled its salespeople in what the plaintiffs are calling a "pyramid scheme."
The suit, which has four plaintiffs from across the US, alleges that the company deceived salespeople — who are called "consultants" — by telling them they could return unsold inventory for a full refund if they decided to leave the company.
A sudden change to the policy in September lowered the promised refund from 100% to 90% of purchased inventory, with additional restrictions. According to Yahoo, many consultants said that they felt comfortable joining the company because of the buyback guarantee, thinking that they wouldn't face financial stress if they weren't able to sell as much clothing as they had hoped.
The plaintiffs allege that in changing the rule, the company misled consultants who thought they would still be able to sell clothing with the 100% buyback guarantee.
The suit was filed on October 13 in the US District Court for the Central District of California, and it accuses LuLaRoe on six counts of misconduct, including unfair business practices, misleading advertising, and breach of contract.
Since it is a direct selling company, LuLaRoe does not offer its clothing through stores or a company website, but instead through consultants who must be referred by a current consultant and buy at least $5,000 worth of inventory to join the company. The consultants do not decide which items they will sell — their inventory is assigned by the company — and they often sell items through social media or online forums. Those who recruit new consultants and sell a sufficient amount of inventory are eligible to be promoted to a sponsor, trainer, coach, or mentor role, and they receive higher bonuses.
The plaintiffs in the class-action suit describe this structure as a "pyramid scheme."
LuLaRoe did not immediately return Business Insider's request for comment.
The company told Yahoo that its operations are not problematic because compensation is based off of sales rather than the number of new salespeople a consultant recruits. But, the fact that one must recruit new salespeople to be eligible for certain bonuses, combined with the abruptly changed buyback policy, has made some skeptical.
While LuLaRoe continues to count many satisfied customers and consultants among its ranks — the company told Yahoo that 90% of its retailers continue to work with them — its rapid growth has threatened its culture and business model.
The company has been accused of encouraging consultants to amass debt and acquire as much inventory as possible in the past.
"I was urged to stop paying my bills to invest in more inventory," one seller told Quartz in August. "I was urged to get rid of television. I was urged to pawn my vehicle. I just had to get on anxiety meds over all of it because I've started having panic attacks."
Those who have struggled to move inventory say that a substantial increase in sellers — from 2,000 in September 2015 to over 80,000 today — has created a level of competition that is much greater than they were led to believe when they joined the company. In March, Business Insider found that over 80% of LuLaRoe's consultants were not able to clear $5,000 in sales in the prior month, with the average monthly sales totaling $3,387.
The company's defenders say that anyone who puts forth enough effort can become successful, and that those who believe otherwise simply aren't working hard enough.
In a controversial webinar, CEO Mark Stidham — who joined the company after his wife, DeAnne, founded it — told consultants who complained about the quality of their inventory and their inability to sell it, "No, you're stale. Your customers are stale. Get out and find new customers. If you bring a new customer in, then your inventory isn't stale. The problem is, you try to sell to the same group of people day after day after day."
Stidham has his defenders. One seller profiled in Business Insider in September 2016, Alexandra Laigle, was able to pay off her student loans and allocate savings for her children's future college expenses. "It has completely changed my life," she said. "My entire family is outfitted in the product. All my friends have heard me go on about it. It's my life."