Sponsored By Her Best Friend: TLC National Director Busisiwe Mashele
October 16, 2017
By Nicole Dunkley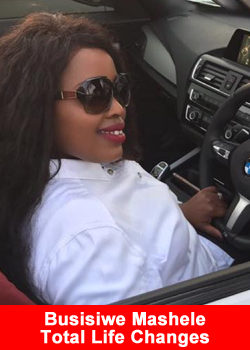 Although Total Life Changes' Independent Business Operators (IBOs) are just that, independent, the company distinguishes itself from other multi-level marketing initiatives by how close-knit many of its entrepreneurs are with one another.
This is most apparent when IBOs bring their families and friends into the business. This was the case with recently promoted National Director Busisiwe Mashele of Tembisa, South Africa, who got her start in TLC thanks to her best friend since childhood.
Busisiwe's friend is Onthatile Makagalemela, well-known at TLC for becoming the first National Director in all of Africa. Onthatile's trailblazing success was based on the same principles that are required wherever an IBO operates: hard work, winning personality, and a willingness to pitch TLC's products and model to those closest to her. It is little surprise then that Onthatile would reach out to her best friend, but Busisiwe admits she was not the easiest sell.
"I was very skeptical," she recalls. "I'd never been involved in network marketing, and the stories you hear about it are always very mixed. Of course I trusted my friend, but I needed to do my own research to be sure it was for me." As the mother of a young daughter carrying a number of large debts, it was a risk to pour her efforts into an unknown quantity. Trying out TLC's products helped her make her decision.
"I really enjoyed the taste of Iaso® Tea, and found that drinking it helped me stay focused on my weight loss journey. Finding out my mother, who is diabetic, enjoyed such a healthy product too was also a hint that these products might actually appeal to many South Africans."
In November 2016, Busisiwe decided to take the plunge with Onthatile as her sponsor. It turned out that her personality was very well-suited to the multi-level marketing business, which she had previously never tried.
A self-described "go-getter" with a sunny personality, Busisiwe's way with people has helped introduce hundreds of people to the TLC business model. In just 11 months she reached the rank of National Director, just like her best friend Onthatile.
"TLC has completely changed my life financially. I've been able to pay off all my debts, and settle other expenses in advance like my daughter and brother's school fees for the year," says Busiswe. "Saying YES to TLC has also changed my business partners' lives. They are now able to achieve goals their previous salaries left out of reach."     
"Great people, great products, great health," she explains. "It's a great combination."
About Total Life Changes
Total Life Changes offers a diverse product portfolio of health, wellness and beauty products. Founder and "Tea" Executive Officer Jack Fallon created TLC over 16 years ago with a single product: NutraBurst®. Since that time, TLC has continued to develop the Iaso® brand of products to include a diverse and attractive product portfolio matched with a hybrid binary compensation plan that allows IBOs of TLC to be rewarded quickly for introducing new customers to our products and business opportunity. Find out why so many are saying, "It really is different over here."