Youngevity Accepted As Member Of The Direct Selling Association
October 25, 2017
By Nicole Dunkley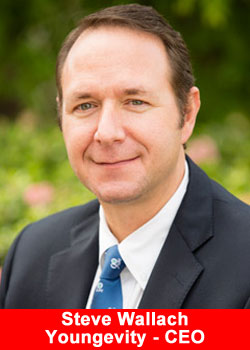 Youngevity International, Inc. (NASDAQ: YGYI), a leading omni-direct lifestyle company, today announced it has been accepted as a member of the Direct Selling Association (DSA). The DSA is the national trade association for companies that offer entrepreneurial opportunities to independent sellers to market and sell products and services, typically outside of a fixed retail establishment.
Founded in 1910, the DSA member base includes hundreds of companies, many of them household names, with more than 90 percent being in the network marketing category. DSA member companies are beholden to its Code of Ethics, which is committed to the highest ethical business standards to protect independent sales, representatives, and customers.
Like all member companies, Youngevity was considered a pending applicant for one full year before being approved for membership. The one-year waiting period begins only when all required materials are received and the applicant company is found in compliance with DSA Code of Ethics.
The DSA legal department then conducts a thorough review of each company's materials, and requests information from various sources, including the Better Business Bureaus and Attorneys General. At the conclusion of the one-year waiting period, the DSA legal department reviews each company's materials and reevaluates compliance before presenting the applicant to the Organization's Board of Directors.
"We're delighted to have Youngevity on board as an active DSA member," stated Nancy M. Burk, DSA Vice President of Membership. "Only companies that meet our high standards are accepted, and we are committed to making our various offerings even more productive and relevant for this dynamic company moving forward."
Member companies receive full access to the DSA's slate of benefits. These perks include research services that provide actionable industry data, professional development by way of conferences, seminars, and webinars, along with networking councils that connect member companies through mutual interest groups. As part of its new membership, Youngevity also has permission to use the DSA logo in its various marketing materials, and publish its public profile on the Association's main website.
"It's certainly an honor to be accepted into the DSA," stated Youngevity CEO Steve Wallach. "We have every intention of taking full advantage of its many programs and activities, all of which we expect will help establish instant credibility around the world."
Capping off its official welcome, Youngevity will attend the DSA Board of Directors meeting in December of this year.
Youngevity was founded upon the pioneering principles of Dr. Joel Wallach; always looking forward to the betterment of society. Today Youngevity continues to meet this mission with groundbreaking products, innovative services and a fulfilling business opportunity individually defined through flexibility and personal lifestyle choices. And in this Pursuit of Betterment, the Company continues to build and grow its Youngevity Be The Change Foundation. One hundred percent of the profits from Youngevity Be the Change Coffee, and other special products highlighted on the Foundation website help fund Foundation donations.
About Youngevity International, Inc.
Youngevity International, Inc. (NASDAQ: YGYI), is a leading omni-direct lifestyle company, offering a hybrid of the direct selling business model, that also offers e-commerce and the power of social selling. Assembling a virtual Main Street of products and services under one corporate entity, Youngevity offers products from the six top selling retail categories: health/nutrition, home/family, food/beverage (including coffee), spa/beauty, apparel/jewelry, as well as innovative services. The Company was formed in the course of the summer 2011 merger of Youngevity Essential Life Sciences with Javalution® Coffee Company (now part of the company's food and beverage division). The resulting company became Youngevity International, Inc. in July 2013.