Total Life Changes' COO John Licari Talks New Regulations On Direct Marketers
November 2, 2017
By Nicole Dunkley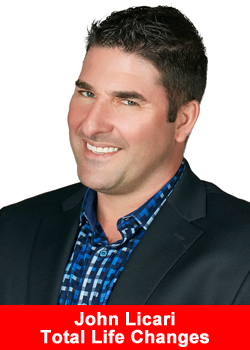 Total Life Changes' Chief Operating Officer John Licari was recently featured in Direct Selling News magazine's cover story on the ways recent regulatory changes are forcing direct marketers to reexamine how they define customers versus distributors.
The Direct Selling News story interviews senior executives from some of the biggest companies in the sector to gauge their responses to the Federal Trade Commission's move to censure network marketing giant Herbalife.
Herbalife lost over $200 million in distributor refunds when it was revealed the company could not prove what percentage of its product sales, if any, actually reached customers outside of its own network of distributors—in effect, the company implicated as a pyramid scheme in the eyes of the government.
A subsequent FTC ruling stated that 80% of Herbalife's revenue must come from actual customers lest the company face further sanctions. While these regulations are specific to Herbalife, other companies have taken notice. This has forced companies like TLC to ensure that they have greater clarity about who their customers are, versus who their distributors are.
Licari considers this an opportunity for direct sellers to refocus on end user satisfaction. "If you lead with the product, you have a chance to make a business out of it," he notes in the article. "But if you lead with the business opportunity, you might not sell the product. Then you have no business."
Many companies are now creating channels to help customers buy without joining. TLC, for example, has begun to more rigorously segment their sales statistics to differentiate between customers and distributors, which not only helps the company prove to regulators that their business is legitimate, but also provides insight into how they can maximize their customer base.
An important goal is to make sure that TLC's existing independent business owners (IBO) are still involved in the distribution process. TLC's upcoming app for online sales will keep track of each shopper's profile, including the name of their distributor. "You don't have to remember your (IBO's) name; the app knows who you are and who your IBO is," says Licari.
About Total Life Changes
Total Life Changes offers a diverse product portfolio of health, wellness and beauty products. President and 'Tea' Executive Officer Jack Fallon created TLC over 16 years ago with a single product: NutraBurst®. Since that time, TLC has continued to develop the Iaso® brand of products to include a diverse and attractive product portfolio matched with a hybrid binary compensation plan that allows IBOs of TLC to be rewarded quickly for introducing new customers to our products and business opportunity. Find out why so many are saying, "It really is different over here."
Source: Licari and TLC featured in October 2017 Direct Selling News cover story