Albert Gyeke Appointed As Vice President Of African Sales At Vida Divina
March 20, 2018
By Team Business For Home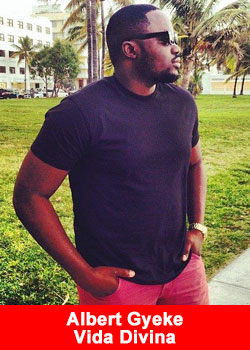 Vida Divina, a global direct marketer of nutritional and healthy lifestyle products, announced today that Albert Gyeke has been appointed as Vice President of African Sales.
After much thought and consideration, CEO of Vida Divina, Armand Puyolt,  announced its multi-million dollar commitment to the African Countries and ensure its success by having Albert Gyeke as the VP of African Sales.
Vida Divina has already legalized ten products in Ghana (GhanaFDA Certified) and one product legal in Botswana with more coming down the pipeline. With news that Vida Divina has a full stock of products in the newly opened Ghana office, the growth has been quick and tremendous.
President of Ghana Nana Akufo-Addo and his administration announced that One Million entrepreneurs in partnership with Vida Divina and the '˜Ghana Job & Skills Bank are being launched in Ghana and across Africa on May 4th of 2018.
Vida Divina was chosen as the countrys exclusive Network Marketing Partner. Starting May 4th. This grant will pay for 1 million young Ghanaian entrepreneurs to launch a Vida Divina businesses.
Albert Gyeke said
Helping 1 million Ghanians will be a blessing to the people of Ghana. Young entrepreneurs are hungry for an opportunity and are willing to work hard for a better life for their family, and its an honor to have former Ghana president J.A Kufuor as patron for Ghana Job Bank Initiative I know this will be huge.'
 Albert is from Ghana, a small nation on the west coast of Africa. Despite its small size, Ghana is known as one of the most thriving democracies on the continent and is referred to as an Island of Peace' in one of the most chaotic regions on earth.  Albert feels that its his duty to introduce Vida Divina to a people starving for great opportunities.
Albert found his way into Network Marketing as a way of covering expenses while studying criminal justice in college.  Earning a few extra hundred dollars a month was a big help, and for some of his people, it was an outright fortune.
Regardless of the amount, Albert felt that he had hit upon something that was worth his further attention.  In 2014 he attended an event and was immensely inspired by one of the guest speakers. His name was Armand Puyolt.
Armand Puyolt CEO Vida Divina said:
Albert Gyeke is probably the sharpest young man you'll ever come across, after I have intensively mentored him for 4 years.'
Before long Albert had established a relationship with Armand and decided that this was a man that he wanted to work with.  He felt that anyone can have a good company, but not everyone can be a great leader.  When Armand announced the launch of Vida Divina, Albert was one of the first to enroll.
Albert admits that things were a little hard for him during the start, but he had confidence in Armand, the product, and himself to make something great out of this exceptional opportunity. To save what little money he had, Albert left his apartment, moved into his car and hit the road.
He recalls how for three months he drove from the Canadian border south along the east coast and all the way to Texas spending 3 days in each city enrolling new Affiliates. All on just faith. As Vida Launched Sep 2016 Albert was quick to be a top earner with over $30,000 in commissions with in the first 30 days.
Today, Albert now heads the first Vida Divina Corporate Office in Ghana which already has thousands people on-board. It is the fastest growing Vida Divina community world-wide. He said to see people who have never known anything but poverty, suddenly discover new wealth and opportunities is just miraculous.
Alberts message to them is simple;
If you want to live free, live healthy, and live wealthy, then he has a place for you.'  
This resonates with people throughout the continent, especially for those that come from small villages where scrounging for food is a daily occurrence, and even a basic education is but a dream.
Ron Sacka, Director of Operations for Vida Divina, adds:
Ghanaians have signed up to become Affiliates of this life Changing Opportunity in huge numbers.

Vida Divina looks to have corporate Offices in 10 African countries in the next 2 years. That is a 8 figure commitment by Vida Divina.'
Alberts involvement has gone well beyond his initial goal of financial independence, it has grown into a passion that clearly defines the very virtues of Vida Divina and Armand Puyolt, to help others in need, and to Lead with Love and compassion.
Armand Puyolt said:
Albert will do an awesome job as the VP of Sales for Africa. I trust him.

He is a sharp, young man, and to me he is like one of my sons, he is family. Our vision of Vida Divina for Africa is to help millions put food on the table and help families one by one by giving the people of Africa an opportunity and the love that they desperately need.'
About Vida Divina LLC
Vida Divina had one of the most Successful Launches in history. The company was founded by Network Marketing Legend Armand Puyolt, who has been in the Top Earners ranks for over 25 years as a distributor and selected by Business for Home as one of the ambassadors of the Network Marketing Industry.
Now as CEO of Vida Divina, Armand Puyolt has a footprint into over 35 countries, with 12 impressive Vida Divina corporate buildings, training centers worldwide, and distributing millions products a month worldwide with in first 6 months of launch.
Vida Divina also currently ships their products to over 30 countries and owns its own manufacturing facilities.
Business For Home also one of the Top 100 Solid MLM Companies For 2018
As a debt free company, Vida Divina was created to be the Ark: to cary as many people to success as possible, helping people from all walks of life to have an opportunity to change the future of their family and themselves for life. For more information please visit www.vidadivina.com