Kimberly And Brody Koebensky Achieve To Elite Pro 7 At LifeVantage
March 1, 2018
By Team Business For Home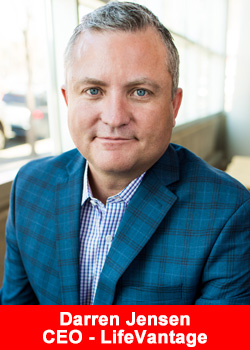 LifeVantage Corporation (Nasdaq:LFVN) has announced that Kimberly and Brody Koebensky have achieved the rank of Elite Pro 7.
The couple was recognized during the companys Elite Academy in Indianapolis, Ind., earlier this month.
According to Chief Sales Officer, Justin Rose, the Koebenskys became elite distributors after starting their LifeVantage business just 20 months ago in Eveleth, Minn.
Kimberly and Brody are living examples of what hard work and a strong belief in our products can do,'
said Rose. They arent just successful distributors. Theyre both amazing people who have put their heart and souls into building an incredible organization while helping so many people along the way.'
Dissatisfied with other methods for maintaining health, Kimberly began using LifeVantage products as a customer before jumping in head first with her husband as a distributor. Since then, they have built a thriving business by blending the personal with the digital.
Weve grown a strong community on social media,'
said Kimberly.
But we also travel a lot. We try to work face-to-face with everyone we can, so they can grasp the excitement we feel about these products. I have a first-hand experience with LifeVantage. This company has helped me understand how to improve my health, and the opportunity has made a world of difference to our family. Its been completely life-changing.'
In addition to achieving Elite Pro 7, Kimberly and Brody have qualified for every incentive trip since they joined LifeVantage®, including the companys upcoming Elite Retreat at the Atlantis Resort in the Bahamas.
About LifeVantage Corporation
LifeVantage Corporation (Nasdaq: LFVN) is a pioneer in Nutrigenomics '" a new science dedicated to biohacking the human aging code.
The company is engaged in the identification, research, development and distribution of advanced nutraceutical dietary supplements and skin care products, including Protandim®, a line of scientifically-validated dietary supplements; TrueScience®, a line of Nrf2 infused skin care products; Petandimâ"¢ for Dogs, a companion pet supplement formulated to combat oxidative stress in dogs; Axio® Smart Energy Drink mixes; PhysIQâ"¢, a Smart Weight Management System; and Omega+, a 3-in-1 fish oil supplement.
LifeVantage was founded in 2003 and is headquartered in Salt Lake City, Utah. For more information, visit www.lifevantage.com.