Giselle Rojas Reaches TLC National Director Rank In Just One Year
April 27, 2018
By Nicole Dunkley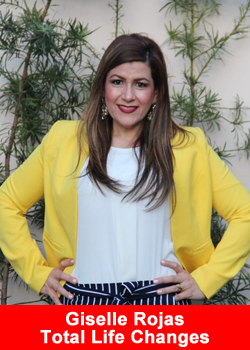 Multi-level marketing (MLM) has a bit of a sink-or-swim side to it: despite the warnings, many are unprepared for the amount of work it takes in the early stages of setting up a business, and they quickly disappear from sight. Giselle Rojas of the Dominican Republic, on the other hand, is a strong swimmer.
She just wrapped up an extremely successful first year with Total Life Changes. From one April to the next, Rojas reached the advanced rank of National Director, and she has no plans of slowing down now.
Rojas is perhaps not the type most would think of when asked to imagine a mid-life success story. Happily married for a quarter-century to husband Cesar Jimenez, she is a mother of four and is devoutly religious. Asked about the Why that led her to TLC, she doesnt focus on the financial goals that motivate most who go into the business world.
I want to lead 200 missionaries in taking the gospel around the world,' says Rojas, and Id like to establish an orphanage to help the many children living on the streets of my country.'
Her sponsor is José Gregorio Hernández, also a National Director of Total Life Changes, who presented the business to her in a personal meeting. She was invited to first try the products and evaluate their quality on her own before making her decision. I loved the Iaso tea from the start,' she says. From the first day I tried it, I havent stopped. I used to suffer from constipation, but I really believe the tea has helped by making my diet healthier and relieving some of my stress.' She also notes that she has lost a considerable amount of weight over the past year.
Executive Ambassador is the highest rank you can achieve in TLC, so as soon as José showed me the video I knew thats where I needed to be,' she says.


Ive visualized myself there, and though there is a lot of work to reach that plateau, I feel as though it is already as good as done.'
Being devoted as she is to her own household, its no surprise that she sees in TLC another kind of family. The leadership is more humble than any other team Ive seen in the whole network marketing industry, very human people,' she notes. The TLC compensation plan is unmatched and it is impressive. It gives everyone the opportunity, from the smallest to the highest rank to earn a lot of money.'
Rojas says she makes five figures USD per month, which is going a long way toward paying off some of the debts she accrued from previous business ventures, and to funding her missionary ambitions.
Im realizing I have the capacity to do great things and to help others, and Im proud I can help my team members come to the same understanding.'
About Total Life Changes
Total Life Changes offers a diverse product portfolio of health, wellness and beauty products. President and Tea Executive Officer Jack Fallon created TLC over 16 years ago with a single product: NutraBurst®. Since that time, TLC has continued to develop the Iaso® brand of products to include a diverse and attractive product portfolio matched with a hybrid binary compensation plan that allows IBOs of TLC to be rewarded quickly for introducing new customers to our products and business opportunity.
Find out why so many are saying, It really is different over here.'