Monica Orozco Achieves Diamond Rank At Vida Divina
April 30, 2018
By Team Business For Home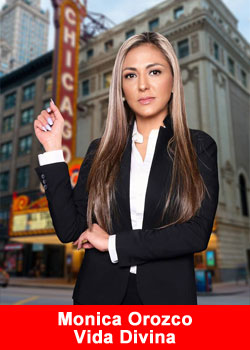 Vida Divina a global direct marketer of nutritional and healthy lifestyle products, announced today that Monica Orozco has obtained the rank of Diamond.
 In only one year as an affliate at rising network marketing company Vida Divina®, Monica Orozco has reached the Diamond rank with earnings of around $100,000 a month.
 Born in Michoacán, Mexico, Monica Orozco migrated to the United States in 2000 along with her family. They settled immediately in the city of Chicago, Illinois, but it took her a long time to find a career in network marketing. Things were not easy at the beginning,
 Monica recounts:
My daughter was born just some months after we arrived in the U.S., I had to stay home taking care of her, while my husband began looking for a job, which was not easy at all.'
 But the most difficult thing was the contrast between her life in Mexico and her new situation. Monica had studied at University of Guadalajara and was already working as sales manager at a telecommunications company in Michoacán. Monica went from financial stability to no income at all, so she had to start looking for work, too.
 Very early in her life, Monica Orozco found she had a special gift for sales. As a child, she used to help her grandfather at his retail store in Michoacán. She was paid in candy, which she also sold at her school later for real money. Her first job in the United States was at a dry-cleaning store, where she began doing catalog sales on the side for customers.
 Later she tried other jobs, working at a daycare, and then cleaning houses.
I did what I had to do, and I was fine with that, but I knew I had the ability to make more money,' she says. I just couldnt find the right place for me to develop my talent.'
 A turning point;
The opportunity she was looking for arrived in May 2015, when she found Vida Divina®, a company led by the prominent multilevel businessman Armand Puyolt, who started this company later that year, with outstanding results.
 Based in Chicago, Monica Orozco has created a network of more than 2,000 people.
Vida Divina® has given me the opportunity I was looking for since I arrived in the United States 18 years ago,'
she says.
Monica feels particularly proud of what she has achieved as a woman, and she hopes her example encourages other women to go after real leadership and financial independence.
My message for women is, '˜Wake up! Once I found a vision, I went all the way, and now I see the results,'
she says.
 Monica Orozco has applied a rather different approach to her business, by leading with love.' Thats Mr. Puyolts advice for all Vida Divinas partners, which means manifesting a real interest in peoples wellbeing '"not only as business prospects. Changing the focus creates a stronger bond with teammates, and the results speak loudly.
 Orozcos network has reached many cities in the United States, as well all as other countries, like Mexico, Colombia, Honduras, Guatemala, El Salvador, Perú, and Ecuador.
Never see signs of dollars when you look at prospects,' she suggests. If you are honest, and persistent, money will come along. This business is about reaching prosperity, but we must treat people with respect and compassion.'
 My experience is like living a dream for me. I was surviving check by check,' she recalls, but I realized that didnt have to last forever.' As an immigrant, most of Orozcos contacts are within the Latino community, who has responded with great enthusiasm to the opportunity Vida Divina® has to offer.
 About Vida Divina LLC
Vida Divina® had one of the most Successful Launches in history, In less than a few years, Vida Divina has grown exponentially. The company has reached more than 32 countries and built up an empire of office buildings all around the world and its own manufacturing facilities. With over 150 million in sales in its first full year, Vida Divina®  was named one of the 100 Solid Top MLM Companies For 2018
 Founded by Network Marketing Legend Armand Puyolt, has been in the Top Network Marketing Earners ranks for over 25 years as a distributor, and has been selected by Business for Home as one of the ambassadors of the network marketing industry.
Vida Divina offers a full line of health products, cosmetics, energy drinks, weight loss enhancers, chemical-free baby foods, among other products designed to enhance the human bodys abilities to cope with the stress of modern world and lack of nutrients.
As a debt-free company, Vida Divina was created like an Ark, to carry as many people to success as possible, and giving them an opportunity to change their future forever. For more information please visit www.vidadivina.com.