Total Life Changes B2B Tour Exposes Guests To Its Products And Business Opportunity In California
April 25, 2018
By Nicole Dunkley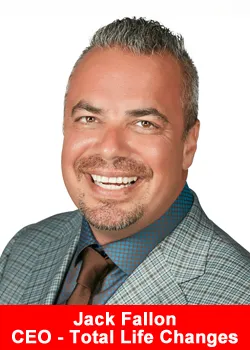 The excitement and energy of Total Life Changes stories continues to draw visitors from all over the world. Hundreds of guests attended the most recent Back to Basics Event in Los Angeles, California on April 21, 2018. Saturdays event began with a short twenty minute business opportunity presentation hosted by TLCs Global Director, Jose Luna.
He introduced the sold out crowd to the history of TLC, its instant gratification products, and explained how to get started as a customer or an independent business owner (IBO). It was incredible. There was standing room only and the energy in the room was amazing.
Thank you Jack Fallon and John Licari for allowing me to present the corporate business opportunity. This market in California is ready. They are ready to plug into the business and follow a retail to recruit mentality,' says Jose Luna.
The Back to Basics Tour is attracting men and women from diverse cultures and communities all over the world. Total Life Changes IBOs are encouraged to invite guests to each event and allow them an opportunity to listen to the history of the company, the results that people are getting all over world, and learn more about how to get started as a customer or join as an Independent Business Owner.
The Los Angeles event was a combination of amazing product testimonies, training, and recognition. Some highlights include rewarding the top three retailers, the top three enrollers, and IBOs that brought the most guests. TLCs Vice President of Latin America, Bolivar Enriquez received the first Youre Amazing' award which recognizes individuals that have made significant contributions to the companys success and support to its salesforce.
Total Life Changes founder and CEO Jack Fallon discusses the vision and success of the B2B Regional Tour:
Were really focused on sharing stories right now. As a matter of fact, we are announcing three weight loss contest winners at every event on our regional tour. Our three winners in Los Angeles had some tremendous testimonies that didnt leave a dry eye in the room.
Each story was very impactful, not only for the total amount of weight loss, but the impact that the weight loss has had on them emotionally, spiritually and psychologically. We are selecting the next three weight loss contest winners and ready to reveal their stories in Tampa, Florida on May 12th, 2018. Im encouraging all of our IBOs to bring their families to our events so they can listen to these life changing stories and share in the emotion, the energy and the atmosphere they we have created. I brought my family to our past two events and it has been an amazing experience.'
The next Back To Basics Regional Event will follow the same format as the event in California; three new winners of the companys weight loss contest will be revealed and share their story in front of the live audience. The three winners from California were also surprised by TLCs founder and CEO, Jack Fallon with a water rower live on stage. Jack encouraged the winners to continue their weight loss and fitness journey with the brand new rowers.
Visit www.BackToBasicsTour.com for more information about the next B2B event on May 12, 2018.
About Total Life Changes
Total Life Changes offers a diverse product portfolio of health, wellness and beauty products. Founder and Tea Executive Officer Jack Fallon created TLC over 16 years ago with a single product: NutraBurst®. Since that time, TLC has continued to develop the Iaso® brand of products to include a diverse and attractive product portfolio matched with a hybrid binary compensation plan that allows IBOs of TLC to be rewarded quickly for introducing new customers to our products and business opportunity.
Find out why so many are saying, It really is different over here.'