Total Life Changes Records Its Best First Quarter Start In Company History
April 16, 2018
By Nicole Dunkley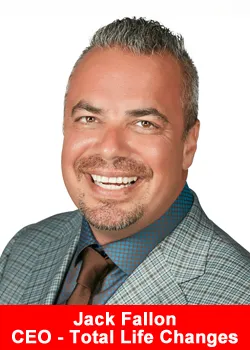 Total Life Changes® (TLC) is a documented Global Top 100 Direct Selling company that offers an amazing line of health and wellness products along with a potentially rewarding business opportunity. Founder and CEO Jack Fallon created TLC over 17 years ago because he fell in love with direct selling and the network marketing industry.
He loved the concept of offering high-quality, efficacious products to the masses outside of a traditional brick and mortar business. Jack Fallon has been a student of Network Marketing and part of his vision for launching TLC was to develop a business model that rewarded its distributors for their efforts, regardless of when they joined.
Jack is charismatic. Hes a husband, father and he truly loves people. His vision was to offer life-changing products and create a business model that would provide brand partners or independent business owners a greater chance at success by carefully selecting and promoting all-natural products that produce lasting results.
In the past eight years TLC has continued to strengthen its product portfolio, offering all natural products like the best-selling and #1 Voted direct selling product, Iaso® Tea. The company continues to place an emphasis on retail sales and IBOs are compensated very generously, earning a 50% commissions on the volume of every sale. The companys hybrid binary system allows independent business owners (IBOs) of TLC to be compensated quickly for introducing new customers and IBOs to life-changing products and an opportunity to supplement or replace their current income.
The first quarter of 2018 is the best start in the companys seventeen year history in the industry. Record sales have been recorded in the USA, France, Dominican Republic, South Africa and South Korea. This momentum and excitement was exhibited in Las Vegas, Nevada during the companys Back to Basics International Event on March 1-3, 2018.
The number of positions/ranks achieved also support the best start in the companys history. The first qualifying position of director was met by 432 IBOs worldwide in the first quarter of 2018. Well over 100 Executive and Regional directors were also created as a result of an increase in sales and new sponsored enrollments
A total of seven IBOs qualified as National Directors, a position that guarantees these IBOs a $1,500 monthly Lifestyle Bonus. The most notable ranks were reached by new Global Director, Mélaine Bernard of France and Ambassador Ana Cantera from Dominican Republic. A grand total of 544 new positions were met in the first quarter alone and Aprils numbers are trending even higher.
Total Life Changes® expects this momentum to continue because of the companys ability to find new ways to communicate with its customers and more importantly its IBOs. We celebrated our one year anniversary of our Live Fun Friday' Facebook broadcasts every Friday at 2 PM EST this January. No matter what country or state we are in we '˜go live on Facebook. It has served as a tremendous platform to share current corporate news and recognize the weekly achievements of our sales force as well as our customers results after consuming our products,' states TLCs Chief Operating Officer John Licari.
The broadcast is relatively unscripted, but it does have its cornerstone announcements of weekly ranks and recognition as well as product promos, live giveaways to the guests viewing the FB stream and a Deal of the Day. This is just one example of how TLC has incorporated current technology into real-time communication with its customers and IBOs.
Founder and CEO Jack Fallon discussed the explosive and record breaking start to 2018:
We know that we have to continue to reinvent ourselves regularly in order to maintain this momentum and reach more people. If you are not reinventing yourself as a company you are likely destined to suffocate the fire. I meet with our executive staff on a daily basis and make sure we all understand that we have to keep stoking the fire. We just launched our new community page on Facebook, its called TLCHQ Community and we are really excited by the results. Weve reached over 10k Facebook users and received over 1K likes within the first 24 hours.
We look forward to using this Community page to share the emotional, physical, and spiritual transformations our clients have obtained as a result of partnering with Total Life Changes. We have an ongoing weight loss contest in which three winners are selected to attend one of our upcoming regional events. Each winner receives roundtrip airfare, hotel accommodations, a professional makeover and an opportunity to share their testimony live during our scheduled events. We will reveal our next three winners at our upcoming event in Los Angeles on April 21, 2018 and we have already launched the next contest, we will reveal those winners in Tampa, Florida on May 12, 2018.'
For more information about Total Life Changes events visit: www.BackToBasicsTour.com or enter the Weight Loss Contest: www.TLCTampaContest.com
Total Life Changes has a diverse corporate staff that operates in harmony. TLCs VP of North America Sales, Kenny E. Lloyd is a native of Detroit, Michigan but has been residing in Houston for the past ten years. TLCs VP of Latin America Sales, Bolivar Enriquez resides in California. They work collaboratively to ensure the growth of both markets. We both operate with one mission, to change as many peoples lives as possible. We are of course very excited about the companys growth in additional markets. But the most important thing for TLC right now is to maintain consistency in our logistics and our training. So many people are having excellent results from consuming our products, which makes it so much easier for our IBOs to introduce new customers to the products, explains Bolivar Enriquez.
Kenny E. Lloyd adds:
We are in a good place right now. And what I mean is, not only are the top earners and leadership working in congruence, we are implementing and recognizing IBOs in the company that are really moving the needle and driving sales, which in turn creates a retail to recruit strategy, which in this industry is the ingredient for success, growth, and longevity. We have some of the best networkers in the industry and I know that there are many other phenomenal networkers watching us. I encourage them to research our product portfolio, our 17 plus years of maintaining a debt-free company, and more importantly the stories that have been created as a result of their decision to become a customer or an IBO. I am truly grateful for our leadership, our corporate staff, and all of our employees around the world that are addicted to our mission to change peoples lives. I proclaimed that this is the Year of Abundance' for TLC and our numbers are proving it.'
About Total Life Changes
Total Life Changes offers a diverse product portfolio of health, wellness and beauty products. Founder and Tea Executive Officer Jack Fallon created TLC over 16 years ago with a single product: NutraBurst®.
Since that time, TLC has continued to develop the Iaso® brand of products to include a diverse and attractive product portfolio matched with a hybrid binary compensation plan that allows IBOs of TLC to be rewarded quickly for introducing new customers to our products and business opportunity. Find out why so many are saying, It really is different over here.'