D. Gary Young Receives BRAVO Legacy Award
May 4, 2018
By Team Business For Home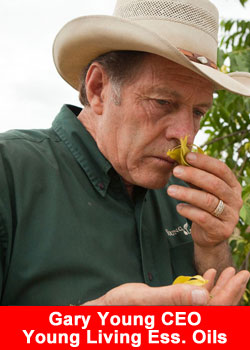 D. Gary Young, the Founder and Chairman of the Board of Young Living Essential Oils, the world leader in essential oils, was honored today by Direct Selling News with its inaugural BRAVO Legacy Award.
This new award recognizes the individual who has made extraordinary professional contributions to the direct selling community that will be felt for generations to come.
Direct Selling News, the Direct Selling Association's magazine, called it "fitting that the first Legacy award honor Young for leading the way in the essential oils space, as well as for his empowerment of those in his company to pursue a passion for health and well-being.
Through Young Living, both Gary and his wife, Mary, have been able to share his discoveries and knowledge with millions around the world and support those in need within the communities where they grow and source the company's oils."
"We are extremely proud of Gary for this accomplishment and thrilled that the rest of the direct selling industry acknowledges what we do. Gary is the iconic trail-blazing pioneer, who introduced to the mainstream public essential oils and their benefits to people around the world,"
said Jared Turner, President and Chief Operating Officer.
"Gary has created a proactive, hands-on approach that we all strive to live by as we work to accomplish his vision of introducing the purest essential oils and oil-infused products to homes worldwide."
Young Living, one of the largest direct selling companies operating in the U.S., has surpassed $1 billion in sales in each of the last three years and exceeded $1.5 billion in 2017. Its revenues have grown 800 percent over the last five years, and it is in the midst of a 34-percent increase in revenue in 2018 year-to-date.
As the leader in the essential oils movement, Young Living has more than 3,000 global employees, 4 million members since founding, 16 corporate and partner farms around the world, 13 offices operating in 22 markets, and products shipping to 133 countries.
Young Living is positioned to continue its impressive growth trajectory with many exciting projects on the horizon. These include a new state-of-the-art, environmentally friendly global headquarters that will house a world-renowned essential oils experience center; hosting our largest international grand convention to date; and identifying and developing new corporate and partner farms.
About Young Living Essential Oils
Young Living Essential Oils, LC, is the world leader in essential oils, with a strict Seed to Seal® process that produces pure essential oil products for every individual, family, and lifestyle. This process ensures that all products are genuine, free of synthetic chemicals, and pure.
This commitment stems from the company's more than 24 years of stewardship toward the earth and its people.
For more information, visit YoungLiving.com